Mercedes GLA 200 CDI review
A rough diesel engine spoils this entry-level Mercedes GLA 200 CDI
The Mercedes GLA 200 CDI is the weakest model in the GLA line-up. Sure, it's well priced, boasts upmarket looks and a classy cabin. Plus it's backed by low CO2 emissions and strong claimed fuel returns, but it's undermined by a coarse and sluggish engine. And like other versions of the Mercedes GLA, the 200 CDI is more of a jacked-up hatchback than a proper SUV.
If you want to get the fashionable Mercedes GLA look for less cash, then this entry-level 200 CDI could be the car for you. Starting at £25,850, the Mercedes GLA 200 CDI boasts a price as eye-catching as its rugged styling.
The Mercedes GLA 200 CDI gets the same pumped-up hatchback styling as more expensive models, such as raised suspension, aluminium roof rails, plus extra chrome trim. The dash is also carried over pretty much unchanged from the Mercedes A-Class. Sadly, though, the upmarket air is shattered the moment the 2.1-litre diesel clatters into life.
Matters don't improve on the move either, because the 134bhp unit underneath the bonnet of the Mercedes GLA 200 CDI feels sluggish off the line and is thrashy when extended.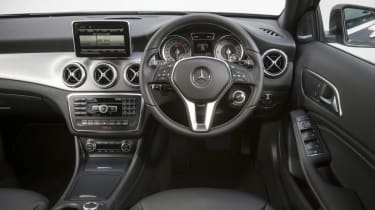 The optional £1,450 seven-speed box fitted to the Mercedes GLA 200 CDI we tested provided smooth and early upshifts, which helped to avoid the worst of the initial mechanical racket. The Mercedes GLA 200 CDI gets a six-speed manual is standard, but it suffers from a springy and vague shift action.
Once up to a steady cruising speed, the engine in the Mercedes GLA 200 CDI subsides to a background hum, while wind and road noise are kept well in check. The Mercedes rides better than the A-Class it's based on, too - although it fidgets a little on the motorway.
The small side windows on the Mercedes GLA make the cabin feel a little claustrophobic, but there's decent head and legroom for those sitting in the back. Better still, there's plenty of useful storage, including a number of lidded cubbies in the centre console. The deep boot also boasts a cavernous 481-litre capacity.
As with other models in the Mercedes GLA range the front-wheel-drive 200 CDI features safe and predictable handling. The steering is precise, there plenty of grip and decent body control. Yet despite its raised ride height, the Mercedes doesn't give the same commanding view of the road as rivals such as the Range Rover Evoque and Audi Q3.