1980 Mercedes 450 SL
The third-generation SL first went on sale in 1971, and it stayed in showrooms for 18 years – so if you're in the market for a cheap classic SL, this is the one to go for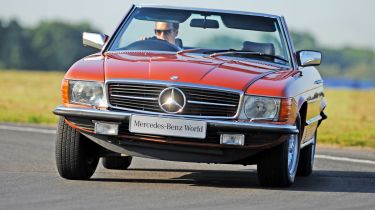 The third-generation SL first went on sale in 1971, and it stayed in showrooms for 18 years – so if you're in the market for a cheap classic SL, this is the one to go for.
Over the years, Mercedes tried out a number of engines in this model, ranging from a 2.8-litre six-cylinder to a 5.6-litre V8.
This 450 SL was powered by a 4.5-litre V8 – and the performance jump over earlier SLs is massive.
Be warned, though – only fans of the eighties are likely to be won over by the hideous wood veneer dashboard.