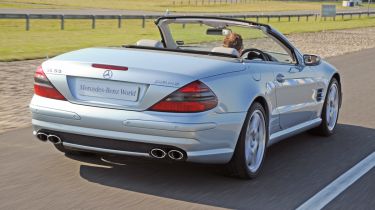 The SLK roadster had already introduced us to the idea of a folding hard-top in 1996, but the MkV was the first SL to be fitted with the tech at launch in 2001.
It also benefited from adaptive suspension, so it cornered flatter than any of its forebears – and the model to make the most of that was the SL 55 AMG.
The interior of our 2005 car hasn't aged well – especially the graphics on the central screen – but there's nothing dated about the way the supercharged engine flings you down the road, or the guttural roar it makes.
If you want huge performance for not much money, a MkV is a fine choice.