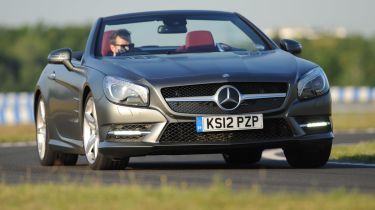 The all-new Mercedes SL is the sixth generation, and while it's 125kg lighter than the MkV, it's strayed from the 'super' and 'lightweight' for which the badge originally stood.
Still, there's no arguing with the performance on tap – and unless you crave the full-bore soundtrack of the SL63 AMG, this SL500, with its 4.7-litre twin-turbo V8, has all the pace most buyers will need.
The cabin has a sumptuous, hi-tech feel, with a blend of chunky metal and soft leather. Plus, the car doubles as a coupe and convertible, with its folding vario-roof (which changes from transparent to opaque at the touch of a button).