60 years of the Mercedes SL
We line up the new Mercedes SL with its forebears in an exclusive showdown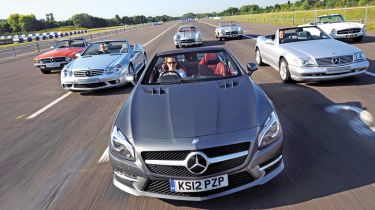 Few manufacturers can trace their sports car roots back to the fifties, and even fewer will hand you the keys to a pristine heritage fleet of such models. Luckily, Mercedes is in the mood for celebrating.
Sixty years ago it realised racing could draw positive attention to the company after WWII. So in 1952, the 300 SL racer was built from parts lying on the factory floor, and it was an instant winner.
Two years later, the 300 SL spawned two road cars – the 300 SL Gullwing and 190 SL roadster – and the SL family was born.
Technology has come a long way in 60 years, but the SL offers the same recipe of style, luxury, comfort and performance as it always has. Click the links to the left to see what we made of its classic predecessors from behind the wheel.