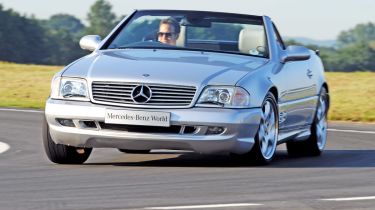 With its long bonnet and wedge-like profile, the fourth-generation car laid the template for all SLs that have followed.
The shape still looks great today, and thanks to its exceptional build quality, the SL 500 we drove still felt as well screwed together as it did on the day it left the factory.
Acceleration is pedestrian next to the new 429bhp SL500, though, as the car's 5.0-litre V8 delivers 'only' 318bhp.
This SL featured a number of innovative safety features, including a pop-up full-width rollover bar – similar to the hoops that you'll find in more modern convertibles.