New Mercedes SL due in 2019 with revolutionary new platform
The new Mercedes SL roadster will get an advanced new platform shared with the new SLK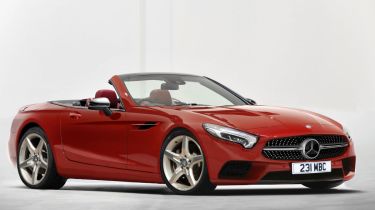 The new Mercedes SL drop-top– due in 2019 - and revealed here in our exclusive images – will clean up its act considerably, and share more than ever before with its baby brother in the range, the SLK roadster.
Mercedes is on a mission to improve the efficiency of its new models, even sports cars, both in terms of the CO2 they emit and the speed at which they can be built. 
Part of that improvement has been achieved with the adoption of the MFA and MRA common modular architectures for front and rear-wheel-drive models. It allows cars like the A-Class, CLA and GLA all to be built on the same lines, which simplifies the production process and gives the company greater flexibility.
However Auto Express has learned that Mercedes now plans to launch a third architecture that will underpin both the new SL and the SLK replacements.
The SL currently has its own bespoke chassis platform, but will switch to the new modular sports car architecture (or MSA for short) by the end of this decade.
Mercedes is currently developing this in Germany, and it means the cars will share certain elements, like the front bulkhead and parts of the suspension, and means all the cars using this chassis will be built in the same factory in Bremen. 
However, the platform will allow the length, width, height and wheelbases to be different to ensure the cars retain their distinct identities, as our images show.
As well as sharing parts, the new platform will cut weight – the current lightest SL is a fairly hefty 1,685kg. The MSA platform will also allow more variants to be offered than at present, including different types of convertible roof options, so there could be a lighter and simpler folding canvas top alongside something similar to today's more complicated and expensive folding metal hard-top. 
And if demand is there, Mercedes could easily expand the range with a four-seat SL, for example. In addition, the platform won't just accept a new range of petrol and diesel engines, and new nine-speed auto boxes; it's also being engineered to take alternative drivetrains, including plug-in hybrid tech like that used by the latest C-Class. Plus, for the first time, Mercedes' 4MATIC system will be offered, as four-wheel drive is becoming an increasingly popular option for sports cars.
This flexibility should help significantly lower emissions, and despite rumours of a new S-Class convertible in the works and rival Jaguar's decision to axe the XK convertible, Mercedes has committed to the future of the SL as one of its icons.