New Denza D9 could be a luxury MPV option for UK customers
BYD is looking hard at bringing its Denza luxury brand to the UK with the D9 set to become a new option for luxury limo companies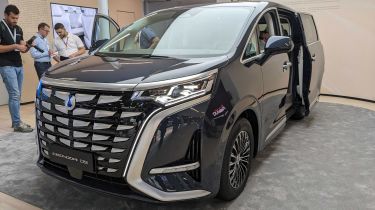 BYD gave its Denza D9 luxury MPV its European debut at the IAA show in Munich – and sources have confirmed to Auto Express that the plush six-seater is under consideration for UK sales.
Denza is BYD's premium brand, although it was launched as long ago as 2010 as a joint venture between the Chinese battery giant and Mercedes-Benz. It has been relatively slow to introduce new models but the D9 kick-started a new strategy when it made its debut in 2022. Denza is expected to follow it up with four more models in due course, with names making up the letters DENZA; the next could well be a seven-seat large SUV, called N8.
In the meantime, BYD UK believes that the D9 may be well positioned to find customers in the luxury limousine market – a segment also now targeted by Lexus, with its LM. Denza's offering comes with a choice of plug-in hybrid or pure-electric powertrains, and two- or four-wheel drive, although there's no word yet on whether this variety would be available to UK buyers. 
The EV version would be BYD's biggest-battery offering here, since its capacity is 103kWh; the car has a range of as much as 620km (385 miles), although this figure is calculated using China's less stringent NEDC testing process.
The D9 on display in Munich had a six-seat, three-row layout and a cabin laden with tech, including no fewer than seven screens – three in the front cabin and a pair each for the middle-row passengers, with individual infotainment displays and small smartphone-sized controllers for the business class-style seats. Those seats also incorporate 10-way adjustment and a 10-point massage function.
BYD is expected to make a decision on UK sales of the Denza D9 by the end of the year – with a potential arrival in showrooms in the second half of 2024. Given the battery size and cabin finish, it could conceivably be pitched above the firm's incoming UK range-topper, the Seal, which tops out at £47,990.
Click here for our list of the best MPVs and people carriers on sale in the UK right now...