Electric car rapid charging is cheaper than petrol or diesel, as pump prices soar
The latest figures show that stable electricity prices bring a cost advantage back to EV drivers - for now at least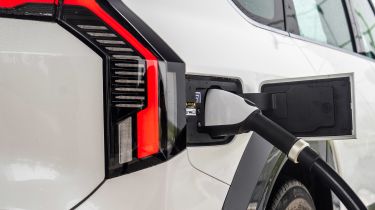 EV drivers can once again fast-charge their vehicles at a lower cost per mile than petrol drivers, following recent increases in pump prices coupled with a period of electricity cost stability.
According to the Automobile Association's August 2023 Recharge Report, while petrol prices jumped 4.24 per cent EV charging costs held steady.
The report says EV drivers charging away from home have enjoyed a 3p/kWh fall in average peak charging costs, whereas the cost of off-peak kerbside charging has risen by 5p/kWh. Across other charging bands, including flat-rate bands, average costs have remained static or even fallen slightly, particularly for the fastest recharging speeds.
The small reductions are hardly cause for EV drivers to celebrate, but they're doing better than owners of petrol and diesel cars. The AA figures show the average price of unleaded rose by 6.19p in August, and is continuing to rise in September - a spike caused by the decision of OPEC nations to reduce supplies, which saw the price per barrel rise from $75 to $90 in the global market.
Last month, says the AA, the pence per mile cost for a typical compact family car was 13.85p, but that has now risen to 14.44p. That makes it more expensive per mile than the average cost of peak and off-peak charging at ultra rapid chargers, it calculates.
Those calculations were based on the cost of adding 80 per cent charge to a Vauxhall Corsa Electric, 50kW, with a WLTP range of 222 miles, equating to an extra 178 miles of range. The petrol calculation was based on an 80 per cent fill of a Vauxhall Corsa 1.2-litre with a 40-litre tank, equating to a 32-litre purchase.
"As well as limited movement in the price paid at the device, unlike fuel there is more uniformity in the cost drivers pay wherever they plug in, be it Padstow, Pontypool or Perth," says AA head of roads policy Jack Cousens.
"As more drivers and businesses make the switch to electric, many may look back at their days owning a petrol or diesel car and wonder why chargepoint companies can keep costs consistent across the UK but the fuel trade can't."
Click here for our list of the best electric cars on sale in the UK...