"There's never been a better time to buy a used car"
Deputy editor John McIlroy thinks buying a used car is more appealing than ever, with countless nearly-new examples on the market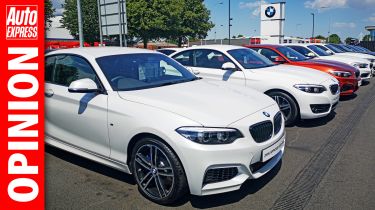 As the UK emerges slowly from lockdown, what's your view on where you're going to buy your next car? Perhaps you've been tied into a 36-month PCP and it's time for an upgrade or a swap. Your lease deal could be up for renewal. Or maybe your current car has just reached MOT time and you think it's time to sell it on.
But regardless of why you're changing, you might also be considering a used car, possibly for the first time in years – and you wouldn't be alone. Concerns over the global economy and job security could well force many people to leave the new-car buying cycle at this point.
A decade ago, we'd have understood entirely if this concept filled you with dread. Second-hand cars have always had cheaper sticker prices, but the inherent compromises on reliability, running costs and safety used to make ownership a bit more of a gamble.
Times have changed, though. The industry's determination to sell new cars for defined periods of time has brought countless nearly-new examples onto the market. And progress in engineering means that it's easier than ever to buy used while not giving much away on safety or fuel-efficiency.
Reliability's better than ever, too, and even if your choice doesn't have any warranty left, you can always tack on aftermarket cover, for extra peace of mind.
That's why we're proud to present our 2020 Used Car Awards this week. You'll find a range of great second-hand options, across 18 categories of vehicle – including everything from sports cars and roadsters to superminis and family SUVs. Prices for some of the more left-field recommendations start from just £500, and our award-winners cost from less than £3,000.
New cars, like the Skoda Octavia and VW ID.3 get us all excited. But, there's no reason why buying a pre-owned vehicle can't be every bit as thrilling – especially when you factor in the savings that come with it.
Click below for our list of the best first cars for new drivers...