How to launch a new car: behind the scenes at the 3008 press reveal
Organising a car's press launch is a detailed process that can take months of planning - as we found out at the Peugeot 3008 reveal
While an army of engineers has spent years putting the Peugeot 3008 through a meticulous development process, another team has been painstakingly working just as long planning how the new model will be launched to the press.
A major launch process comprises three key elements: the big reveal, a motor show debut and finally the test drive. The big day for Peugeot was 23 May, when journalists from 45 countries around the world were invited to Le Bourget in Paris to see the 3008 for the very first time.
• Test of time: 3008 minutes in a Peugeot 3008
We were among around 400 guests at the event, and every one was there to photograph the same car and steal a quick word with Maxime Picat, then Peugeot brand CEO. So as you can imagine, things got rather hectic...
The increasing importance of social media and the Internet also means everything you see and hear has to be reported on as soon as possible. Peugeot is fully aware of this, and had installed desks, computers and Wi-Fi hotspots around the venue to give journalists the access they needed.
When the covers are finally pulled off the 3008, a scrum of photographers descends on the car. Several minutes of flashbulbs going off like fireworks, video presenters fluffing their lines and raised voices ensue as every photographer looks for the perfect shot, before journalists are let to loose to poke around.
The obvious question here, then, is why show off a car that won't be going on sale until January? For Peugeot it's all about generating attention as early as possible and keeping people interested month after month.
This is why, six months after the 3008 was first revealed, Peugeot returned to Paris and to the motor show where the car was launched to the public for the first time. The Mondial de l'Automobile was chosen for a reason: firstly, Paris is Peugeot's home and secondly the event attracts the largest footfall of any motor show on the calendar. With over one million visitors, there was no better platform than the Paris Motor Show for Peugeot to demonstrate the latest-generation i-Cockpit – one of the 3008's key selling points.
• Peugeot 3008 safety: what makes a 5-star Euro NCAP car?
Yet one of the most significant parts of the entire launch was just around the corner. Only nine days after the doors to the Paris Motor Show had opened, the first batch of journalists – those from Auto Express included – was being handed the keys to Peugeot's most important new car of a generation.
The 3008 had won people over on its style and technology, but now it had to impress from behind the wheel. You could almost hear the sighs of relief in Paris when the reviews began to roll in, all unanimously declaring the new SUV a hit.
Peugeot 3008 Special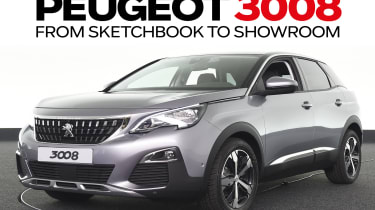 • New Peugeot 3008: in-depth guide to the new SUV
• Behind the scenes at the 3008 press reveal
• Test of time: 3008 minutes in a Peugeot 3008• Peugeot 3008 DKR ready for 2017 Dakar rally• New Peugeot 5008 turns on the style