Test of time: 3008 minutes in a Peugeot 3008
Can the all-new Peugeot 3008 SUV deliver in a punishing 50-hour assignment on the Auto Express fleet?
SUVs are designed to offer all the practicality and versatility of an MPV while also standing out from the crowd in a way few other cars can. With their raised ride heights and spacious cabins, they're easy to drive, while their rugged designs and bulky bodies give owners a sense of security unavailable in conventional hatchbacks.
To see whether the new Peugeot 3008 delivers on this promise, we put it through its paces in a gruelling test that only the hardiest cars could pass. The premise was simple: 3008 minutes in a 3008 SUV – a tag-team relay to find out if this new model has what it takes to topple a pool of talented competitors.
It all started on a windy November afternoon in central London. The 3008's first task was to take our art director Darren Wilson home, via his son George's music lesson south east of the capital. Who better to assess the style and design of Peugeot's latest model than the man who lays out the UK's biggest-selling weekly car magazine?
The heavy London traffic gave Darren the opportunity to have a proper poke around the new SUV. Unlike the 308 hatchback, Peugeot has seen fit to install a row of piano-style buttons on the centre console, rather than allow the entire infotainment system to be controlled via a fiddly touchscreen. They work well, and give improved reference points for slick operation on the move.
"I love the interior layout," Darren said. "It's spacious, with a sleek, modern design. I especially like the brushed steel edging and switches, plus the fabric on the doors."
High praise indeed, that doesn't come lightly. Darren has been at Auto Express for more than 20 years, and in that time has run countless cars on our fleet – so he knows his stuff. Our GT Line model came equipped with a large double sunroof, which is another feature Darren really liked. Once home, he made a dash back into town for dinner with his wife Dawn and sons George and Harry. Everyone was happy, as Darren quickly found his favourite radio station and programmed it into the presets via the 3008's intuitive infotainment set-up.
Sitting in the front passenger seat, Dawn was also a big fan. "There's loads of space and the ambient lighting is a nice touch on a cold winter's night," she reported. "The boys didn't struggle for headroom, either, even though George is nudging six foot tall."
So, 16 hours down, 34 to go. With plenty more in store for the new 3008 SUV, Darren strapped himself in for the stop-start school run, before a dash to Sainsbury's.
With barely time to breathe, he was then on to the M25 to transport the car to Longcross Proving Ground in Surrey for our Auto Express performance assessments. When a new car is launched, the manufacturer always publishes claimed acceleration figures, but in reality these can occasionally be a little on the ambitious side. However, that's not the case with the 3008. Peugeot claims our 119bhp 1.6-litre diesel model is capable of 0-62mph in 11.4 seconds. Against our GPS tracking system – which records a 0-60mph time rather than 0-62mph – we clocked the Peugeot at 10.8 seconds, meaning those claimed figures look entirely achievable.
Even better, the 3008 also scored decent in-gear acceleration times thanks to its gutsy 300Nm of torque and flexible engine. While we were there we also took the opportunity to subject the 3008 to a mild off-road course – the equivalent to a badly rutted country lane, the worst the 3008 is likely to face in the real world. Despite our model not coming with Peugeot's innovative Advanced Grip Control, a set of all-weather tyres and the 3008's raised ride height got us though without a hitch.
At the end of the track I was waiting to collect the keys for our first driver change. I'd be running the Peugeot for the next 15 hours – and thanks to my passion for cycling, I was able to test its practicality to the max.
Initially, this involved another slog along the busy M25, although it was only one clockwise junction before I switched on to the M3 into London. Luckily, at this time of day all the traffic seemed to be going the other way – but as the light faded it seemed as good a time as any to test the car's mobile phone connectivity.
Every car comes with MirrorLink and Apple CarPlay, and as I'm an iPhone user, I tried the latter on my way home. The beauty of such a system is that there are no complicated Bluetooth menus or annoying connection processes – you simply attach your phone via USB and you're good to go. It's a wonder why many manufacturers spend millions on their own infotainment systems when Apple has produced such a simple, straightforward and intuitive alternative.
I quickly composed a text to my fiancée, letting her know I needed to get the car washed before tomorrow's shoot – and asking whether we needed anything for dinner. A quick reply was read back over the car's speakers. No stress or hassle – and crucially, no need to pull over to the side of the road. With the car washed and the potatoes bought, I parked the 3008 at home. But I'd be back on the road bright and early, this time with a bike in the boot. I was up and out of the house before 8am the next day in a bid to avoid the morning rush along London's South Circular, although it was only a short drive to Richmond Park. My bike fitted in the back of the car without me needing to remove a wheel. The split-fold rear seats lower in one simple movement, and lie flat for easy loading. The 591-litre boot expands to 1,670 litres, too, offering more than enough space for bulky items – just like my bike.
As the load area is large and wide, sliding the bike in and out was easy, while even with the driver's seat slid back, there was still plenty of space in the rear footwells for a backpack and some extra kit. This was fortunate, because it was absolutely freezing; extra layers and a sack full of dry clothes were essential.
Two laps of Richmond Park take around 50 minutes on a bicycle. On four wheels it's slightly less, but only marginally so – as we drove to our shoot location, we were overtaken on Broomfield Hill by a lycra-clad middle-aged man trying to set a new course record. It was a greasy day, and we were grateful for the Peugeot's excellent all-weather tyres. Luckily, visibility was good, meaning no near misses with ambling pedestrians – or indeed one of the Park's countless deer, which often wander aimlessly into the road.
Even though I'd covered only a short distance in the 3008, my lasting impression was how easy it is to drive. The second-generation i-Cockpit dashboard is a huge leap forward, feeling genuinely intuitive and simple to use. As everything is positioned in your line of sight, you very rarely need to take your eyes off the road.
Having run a 308 GTi for six months, I'd grown used to the small steering wheel. Moving into a conventionally styled car made it feel like you were driving using a dustbin lid; the Peugeot's improved agility is instantly noticeable. The wheel is reshaped in the 3008 SUV, but it still gives that sense of the car being nimble and easy to manoeuvre.
The next member of the team would be able to add some more depth in their time with the new Peugeot. I handed the keys to staff photographer Otis Clay, who was taking the 3008 north for a shoot with a difference – and it's this very car that would act as support vehicle for our team of experienced road testers. The location was Bruntingthorpe aerodrome, Leics, about 115 miles from our rendezvous in Richmond. The journey took around two-and-a-half hours, and gave Otis an opportunity to test the car in urban and rural environments, as well as on the busy M1. The trip was also a decent test of the car's fuel economy – our frugal 1.6-litre BlueHDi diesel model claims just over 70mpg.
That figure translates to low CO2 emissions of 104g/km, so prospective owners face an annual road tax bill of £20. That's not bad considering the lively performance, and even the top-spec 2.0-litre emits only 124g/km (for £110 tax).
The strong efficiency meant that, after Otis had quickly topped up before he left, the fuel gauge showed barely any change by the time he arrived at Bruntingthorpe. The trip computer showed a remarkable 59mpg – impressive considering a decent average speed of more than 50mph.
In Leicestershire, three of the fastest supercars money can buy lay in wait. Editor-at-large James Batchelor had rounded up a McLaren 540C, Honda NSX and Nissan GT-R for one of our legendary drag races. The two-mile runway is perfect for this kind of thing, as its wide, empty surface is rarely interrupted – despite acting as a functioning airfield.
While Otis was there, he also shot the McLaren for an Auto Express first drive, using the 3008 as a tracking vehicle. We usually pick the softest, most spacious car on our fleet for this; the Peugeot was the ideal choice.
"With the seats laid flat, there's loads of room in the back," he said. "It allowed me plenty of freedom to get the best angle, without feeling claustrophobic or hemmed in.
"The panoramic roof is not only fantastic due to the light it lets into the cabin, it also worked really well as a vantage point while generating tracking shots for the magazine."
Plus, he praised the compliant suspension – another key trait of any photographer's assistant. You may expect this in all SUVs, but many are tuned for sportier driving, so are too firm to shoot from. The 3008 offers the best of both worlds, with just enough cushion for crystal-clear images.
It spent the day whizzing up and down the runway as Otis snapped various details and panning shots. The stop-start nature of an Auto Express shoot isn't easy, but the Peugeot coped well, shutting down its engine to conserve fuel every time we paused to wipe down the cars and shuffle drivers.
As the day drew to a close, Otis was offered the hardcore GT-R or plush 3008 to drive home in – and the latter took his fancy. On a cold winter's night, the more relaxed 3008 was the rational choice for a three-hour trip back to London.
On his way home, our man enjoyed the Peugeot's heated, massaging driver's seat. While journalists get to sit in cars during filming, photographers are often left standing with their head out of the roof, or even in a cold field. "The seat sorted my back out after a long day," said Otis. "It even helped keep me awake. In the 308 the set-up feels like a gimmick, but I really valued it in the 3008."
Otis also found the 3008's all-round parking sensors made life easier when he stopped to pick up a takeaway in the driving rain as he neared Auto Express's central London office. The small window hampers rearwardvisibility a little, but Allure models (expected to account for over 50 per cent of sales) and above get a 180-degree colour parking camera, which allows you to squeeze into even the tightest of gaps.
As soon as he reached the office car park, Otis spotted one of Peugeot's dedicated delivery drivers. Our time was up, and with the paperwork completed, the car was whisked away to be prepared for the 3008's UK launch.
In 3008 minutes – or just over 50 hours – we'd put the latest Peugeot through its paces in town, on the motorway and even off the beaten track. But our test confirms that the transition from MPV to SUV has only enhanced the car's practicality, versatility and all-round appeal.
Peugeot 3008 Special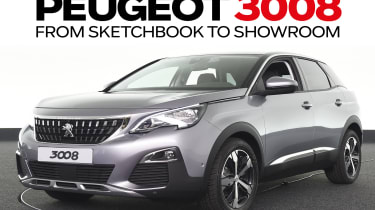 • New Peugeot 3008: in-depth guide to the new SUV
• Test of time: 3008 minutes in a Peugeot 3008 • Peugeot 3008 DKR ready for 2017 Dakar rally• New Peugeot 5008 turns on the style