From MPV to SUV: designing the new Peugeot 3008:
We go back to the beginning of Peugeot's journey from bulky MPV to sharp SUV with the new 3008
It starts in a secret studio at Peugeot's design headquarters in Paris, where Marion David, brand manager for the 3008, has been working on the project since 2012. "The original 3008 was a concept we started on in 2004, at a time when SUVs were just large 4x4s," says Marion. "We were trying to attract female buyers by considering their frustration with their cars. They wanted status and value, and the compact MPVs available to them were not status symbols – they highlighted that you were a mother or a father, and there was a loss of driving pleasure."
The new car is based on the PSA family's latest EMP2 platform, which brings huge technological and weight advantages. It features the second generation of Peugeot's i-Cockpit, with a high-set 12-inch digital display in front of the driver, an eight-inch touchscreen for infotainment and navigation, and a small steering wheel for a sportier feel. 
Marion and Peugeot's chief designer Gilles Vidal then show us to a studio with early styling bucks on display, as well as some interior mock-ups that show early ideas and how the design evolved during the car's development.
Vidal explains the process to us, revealing that the vehicle concept was signed off in 2012, the choice of style was made a year later, then in 2014, design details were finally decided upon – with testing at every stage. Polystyrene, clay and resin models were made, with increasing detail, and these were used for feedback from customers to test concepts and adjust the design direction. "We wanted to revisit the 3008 completely," says Vidal. "There were so many questions about proportions, looking at attributes of SUVs, and there was lots of inspiration from the Quartz concept (displayed at the Paris Motor Show in 2014) and the HX1 concept (seen at 2011's Frankfurt show).
"We eliminated the one-box look of the old car with a more distinct bonnet and played with the 'black diamond' C-pillar, looking at different angles. We finally decided on a chrome piece around the window line and an expressive front end, with the claws of a lion in the headlights."
Buyers asked for a greater balance between softness and tightness, Vidal tells us, which led to the more upright front end. "The grille design is completely new," says Vidal. "This car is a renewal, so in a way, we're starting from scratch and doing something different.
"Customers also told us that the original lights looked too small, so we made a styling decision to make them bigger. There's no split tailgate on this model – we putit on the original car to move it towards a crossover, but now it's moving towards being a pure SUV, it isn't needed.
"We've put a great deal of effort into design detail – we have to increase the perceived quality to help push Peugeot upmarket." That new, more premium approach is particularly evident on the inside, as Eric Dejou, project manager for interior design, explains: "Each passenger has their own world and we have to deliver for each person.
• Building the 3008: inside Peugeot's Sochaux plant
"Some things had to be kept, such as references to the world of aviation with our toggle switches, then adding new technology like wireless phone charging and i-Cockpit.
"We're very close from the engineering concept to the production car, so we're very proud."
Colours and trims manager Benoit Morin took us through more of the interior details that mark out the new car: "We have three finishes on an all-new, more compact seat, some with orange stitching," he told us. "We played with rough and soft materials inside, so there's fabric on the dash and rougher wood finishes on some models."
While new cars obviously have to be tested on the road, these days virtual reality plays a part, too, and we were allowed to compare the old and new 3008 interiors in the brand's virtual reality 'cave'. This wraparound experience, developed in-house at Peugeot, allows engineers to work in full scale, validating the style and perceived quality before making a physical mock-up. When the first stages of testing began, Peugeot took a new Citroen C4 Picasso and modified it to represent the interior relationship between driver, seats and controls. It even took Peugeot three months to decide on the perfect positioning of the door mirrors for visibility, style and aerodynamics.
So have all the years of hard development work paid off? We'll let you be the judge, but in our eyes, Peugeot has turned the 3008 into a stylish and practical SUV, with one of the best interiors in the business.
Q&A Gilles Vidal: Peugeot design director
What does it take to design the next Peugeot success story? What challenges has the new SUV posed? And what's next for the brand? Styling chief reveals all.
How is Peugeot adapting with new boss Jean-Philippe Imparato coming in? Are things changing, or is he keeping things as they were?
"Things are not going to change too much, I don't think. Of course, he is going to have his own style, but there is a very strong coherent strategy going on with a fairly long perspective. I think it is very important to know what you want to be 20 years from now." 
So, the 3008 has now transitioned from MPV to SUV. Is the conventional multi-purpose vehicle dead as we know it? Will we see another one?
"For us, the MPV is a vehicle that you need, but one you don't desire. With an SUV – if it is big enough inside, practical enough and modular enough – you have everything you find in an MPV but in a more desirable body, so it's more valuable. To us, the classical MPV is finished."
Does that mean every type of car will change, though?
"I think this is true for most segments imaginable. At Peugeot, every segment has that vision. How do you question the existing to bring more value and better experiences to people? You will see in the next models."
What are you most pleased with on the 3008?
"It had to have the codes of an SUV. Big wheels, ground clearance, a front end that stands out and a long bonnet. At the same time, we stand for elegance and efficiency, so we want a tough looking car that is still slim and efficient. All this is present – even in an SUV."
How will the 3008 differ around the world?
"We try to make global cars. Before, we had a strategy to make many local cars for local markets, but now we work on cars that can match the taste of customers in different regions. There will be slight changes around the world – for example, 3008 is slightly longer in China because it needs more room in the back. But that's the only difference." 
Does designing a car for a global audience allow you to be more creative, or is it more constrained?
"A bit of both, actually. There is such a thing as  universal design language: you are a brand and you need to be that brand everywhere in the world. Peugeot can't be Chinese-looking to sell in China – Chinese people will buy Peugeots because they're French cars. You don't buy a [Ford] Mustang because it's Chinese – you buy it because it's a Mustang. It is quite simple. It's not so hard to fit the design worldwide."
But surely a 3008 built for Brazillian customers doesn't need to be as luxurious as one built for the UK? Buyers want different things, right?
"Customers have different preferences. We have to offer specific solutions for the interior or the equipment. But it's quite clear for us to have a worldwide understanding of how cars work."
What makes a Peugeot a Peugeot, then?
"Everybody is good at styling – not everyone is good at design. The automotive industry needs to push automotive experiences for people. For me, it starts inside. We launched i-Cockpit on the 208. Some people liked it and some journalists found it disconcerting. But we are car geeks, and I am designing cars for normal people."
• Peugeot Advanced Grip Control winter test
How has i-Cockpit been received? How does the second-generation system move the game on?
"We had to look at how we could make safety better, ergonomics better, and also bring new sensations to the driver. With the new i-Cockpit on the 3008, you can focus your attention from instrument to road in half a second."
What's your view on the design of the Peugeot 3008? Let us know in the comments...
Peugeot 3008 Special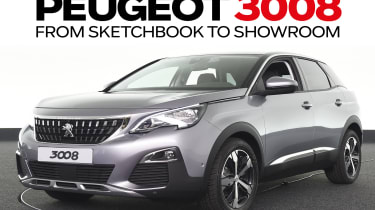 • New Peugeot 3008: in-depth guide to the new SUV
• From MPV to SUV: designing the new Peugeot 3008
• Test of time: 3008 minutes in a Peugeot 3008• Peugeot 3008 DKR ready for 2017 Dakar rally• New Peugeot 5008 turns on the style