Forget rapid charging, Polestar extreme fast charging tech adds 100 miles in 5 minutes
Polestar thinks it can gain an edge over premium EV rivals with new 'extreme fast charging' tech to be previewed in a Polestar 5 prototype next year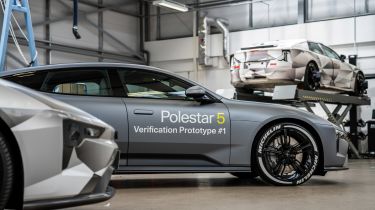 It's well documented that charging and range anxiety are perhaps the biggest barriers to electric car adoption and Polestar has big plans to alleviate both. The brand has partnered with StoreDot, the originator of a new charging technology dubbed 'extreme fast charging' or XFC for short, with the aim of bringing to market a system that can add 100 miles of range to an electric car in just five minutes.
Crucially, the StoreDot technology does not rely on a battery technology revolution and can be integrated with existing battery designs and manufacturing processes to bring this claimed boost in charging speeds. The 'pouch cell' battery uses a conventional lithium-ion makeup with special silicone anodes to deliver the speeds. The company claims that their 100 miles in five minutes claim can be acheived with an existing 350kW charger and a car offering similar efficency to that of the new Polestar 5. With faster chargers or more efficient cars, that amount of range could be added even faster. 
StoreDot says that there is no ecxcessive heat build-up beyond what you would expect from rapid charging a conventional battery and across 1,000s of charging cycles there is no evidence of additional battery degradation. The batteries are also a similar weight to conventional battery packs.
Polestar aims to showcase a prototype version of the Polestar 5 four-door coupe using the XFC system and its 'pouch cell' silicone anode battery module in 2024 and Auto Express has already seen the technology in operation at the 2023 Polestar Day in Los Angeles. 
Right now, Polestar is in the early stages of a growth spurt. The existing Polestar 1 and Polestar 2 are set to be joined by the Polestar 3 and Polestar 4 SUVs in 2024, with the Polestar 5 waiting in the wings. It's no surprise that the high performance Polestar 5 four-door coupe has been selected to showcase the extreme fast charging technology. The car is based on on a new, purpose-designed aluminium architecture and set to rival premium electric cars like the Porsche Taycan and Tesla Model S when it goes on sale. The hope within Polestar is that the XTC tech may well give it an edge in the market with charging speeds that would make range anxiety a thing of the past.
Polestar CEO Thomas Ingenlath said: "StoreDot is making huge strides forward in the development of their extreme fast charging technology and we are a proud investor and partner in its evolution. StoreDot's pioneering extreme fast charging batteries, combined with our upcoming top-of-the-line electric powertrain, can revolutionise the ownership experience for EV owners with the ability to recharge in minutes."
Click here for our list of the best electric cars on sale in the UK...