Porsche 911 GT2 RS Clubsport Package adds steel roll cage
Make your Porsche 911 GT2 RS ready for FIA competition use with the new Clubsport Package, which arrives as a no-cost option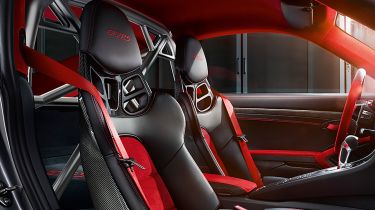 The Porsche 911 GT2 RS is arguably the most track-focused model in the brand's line-up, and now there's a Clubsport Package to make it even better suited to those who are serious about venturing out on a circuit.
The new Clubsport Package adds a couple of accessories which boosts safety on a track day, while preparing the GT2 RS for any FIA-homologated competition use. The main addition is the steel rear roll cage. This is screwed into the body behind the front seats with extra reinforcements to the body shell.
• Best track day cars available
Also included and ready to install is a fire extinguisher and aluminium mounting bracket, plus a six-point seat belt for the driver. The parts can't be combined with the optional electrically-adjustable sports seats, but work with both the regular sports and full bucket seat designs.
For those who might wish to compete in their GT2 RS, the Clubsport Package comes with preparation for a battery master switch which, like the mountings for the front section of the roll cage, can be bought separately. Both parts feature full FIA approval.
The best news for track-going Porsche owners is that the Clubsport Package is a no-cost option. It can also be paired with a variation of the performance-boosting Weissach Package (which saves 30kg courtesy of forged magnesium wheels and a carbon fibre bonnet and roof) but swaps that pack's non-FIA approved titanium cage for the steel item.
The engine remains unchanged; the 3.8-litre twin-turbo flat six still produces 694bhp and 750Nm of torque, enough for a 2.8-second 0-62mph time and a 211mph top speed.
Click here for our list of the fastest ever times around the Nurburgring...