New all-electric Porsche Cayenne confirmed
Porsche is aiming to launch EV versions of the Cayenne, Macan, 718 Boxster and Cayman as it prepares for full electrification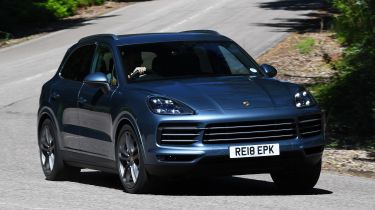 Porsche has confirmed that an all-electric Cayenne will join its line-up to accelerate its push towards full electrification, part of a fresh growth plan that aims to deliver an industry-leading profit margin of more than 20 per cent.
Called Road to 20, and unveiled at an annual conference where Porsche announced record deliveries and profits in 2022, the plan reiterates a previously stated goal of more than 80 per cent of sales to be fully electric by 2030. It focuses on three fully electric models – the forthcoming Macan and the successor to the existing 718 Cayman and Boxster, but also a new generation of Cayenne. 
Porsche CEO Oliver Blume confirmed this morning that the next 718 will arrive with a choice of electric or combustion powertrains before switching to pure EV "in the medium term". It's expected in 2025, and Blume revealed that an all-electric Cayenne "will follow right afterwards". That would put it around a year ahead of Porsche's proposed larger seven-seat electric SUV, codenamed K1 and tipped to arrive in 2027 as the first model on the Porsche-led SSP Sport platform. "We want to be a pioneer in e-mobility," Blume said. "Our strategy is clear - electromobility is being given top priority at Porsche. We're ramping up like hardly anyone else can. Our product strategy entirely aimed at achieving this goal."
Blume also said that he has been "thrilled" with the handling of a plug-in hybrid version of the 911 that is now planned for production. 
Road to 20 will also depend on extra personalisation possibilities for all Porsche models, along with increased numbers of limited-edition variants; the company believes that both of these are obvious ways for the profit margin to be increased, while adding value to the brand. "For many people," Porsche CEO Oliver Blume said, "buying a Porsche is the goal of a lifetime. So even if it is very personal, we want to make it come true."
Porsche's 2022 figures set new benchmarks for the brand. It made 37.6billion euros (£33.3bn) of revenue, a year-on-year rise of more than 13 per cent, but its operating profit jumped by more than a quarter, to a record 6.8billion euros (£6.02bn). The company delivered almost 310,000 vehicles, a gain of three per cent over its 2021 figure.
The operating profit margin on sales was another record, at 18 per cent; that's a rise of two per cent over 2021, but Porsche's goal is to add at least another two per cent to this number. It believes it can achieve between 17 and 19 per cent in 2023.
Now read our list of the fastest SUVs in the world...