Next-generation Porsche Cayman could go fully electric
Porsche will decide on switching Cayman and Boxster models to electric power by the summer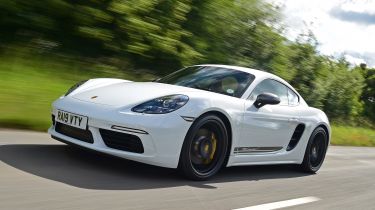 Porsche is inching closer to switching the 718 Boxster and 718 Cayman to pure-electric power - but the firm's boss says it still needs a "few more months" before deciding whether the move is feasible.
The current 982-generation Boxster and Cayman were introduced in 2016, making new generations in 2023 likely. Porsche boss Oliver Blume told Auto Express in autumn 2019 that the company would decide "in the next 12 months" whether or not to switch the cars from combustion engines to electric power.
Now Blume has admitted that the decision has still not been made, but stated that it will happen before this summer. He also has hinted strongly that a switch to electric power is looking more feasible than not. Speaking after Porsche's annual results conference, Blume said, "There is an opportunity that we will do the 718 electric but we are still in a concept period, where we haven't decided yet. To go electric now we need future battery evolution.
"We will wait a couple of months more before we decide which concept we will use. But I think there is a positive potential to do this, and when we do the 718 electric it should be driven like a 911 and all the other sports cars."
Blume said that despite some other manufacturers getting out of the small premium sports car market, the Boxster and Cayman are sure to get a new generation, regardless of whether it's powered by a combustion engine or electric motors. "We will continue with the model range of the 718," he said. "That is clear. If it's combustion engine or electric isn't decided yet."
Porsche clearly sees full electrification as a positive for future sports cars, with Blume commenting, "You can't compare combustion engines with electric motors but there are a lot of positive advantages of electromobility because of the punch and the acceleration you can put into the car."
However, the brand's CEO also conceded that petrol engines still have a place in its line-up in the short to medium term:
"I think we need both [ICE and EV] for the next years. Therefore, we have flexibility in our product range to continue with the 911 on combustion engines, to continue with other cars on combustion engines, to produce hybrids with higher electric-only ranges, to introduce hybrids on the 911; there are still a lot of options for combustion engines.
"But coming from a sustainability perspective, the long-term future will be electromobility and I think drivers who have already driven electric cars are very convinced. I think we can convince the community as well, especially as we did it with the Taycan. We have much more ideas for our future electric cars. Our future electric cars are 100 per cent Porsche."
Do you think the Porsche 718 Cayman should be all-electric? Let us know your thoughts below...