'The reveal of the Renault Megane eVision is hugely significant for the brand'
Deputy editor John McIlroy thinks Renault's new boss Luca de Meo has a tough task ahead, but hit the mark with the new all-electric Renault Megane eVision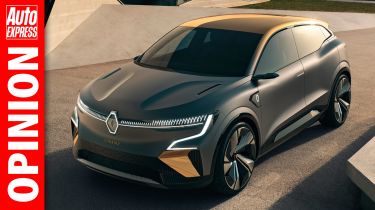 We're big fans of Renault's smaller cars here at Auto Express – as proven by the company's recent New Car Awards victories for the Clio, Captur and Zoe. But we've been increasingly puzzled about what the firm plans to do with its larger models – vehicles like the Megane, increasingly marginalised against the likes of the VW Golf and Ford Focus, and the Kadjar, which looks ever-more-anonymous in the packed family SUV class.
But now we can tell the first part of the new story, as Renault's designers, led by Laurens van den Acker, have turned the Megane into a funky all-electric crossover.
This reveal is a hugely significant one – and not just because it shows the future of a badge with huge equity, including here in the UK. The Megane eVision was also the showstopper in the initial presentation (online only, naturally) from Renault's new boss, former SEAT chief Luca de Meo, who has been tasked with bringing the French company up to the levels of success (and profit) currently being enjoyed by its local rival, Groupe PSA.
This will not be an easy task – not least because the French government itself has a share in Renault, making key decisions on factories and production sites potentially tricky. But de Meo is a former sales and marketing guy, and as such, he brings a strong understanding of brand strengths and what customers really want.
That's obvious from the Megane eVision – a clear evolution of the current five-door hatch, but now in pure-electric SUV form – and the Dacia Spring, which was also revealed last week. Renault's budget sub-brand traditionally has a razor-sharp focus on customer needs, and this baby electric SUV has enormous potential to shake up the EV market.
There's no doubt de Meo and Renault still have plenty of challenges ahead of them. But this week's news is an encouraging sign of how they plan to overcome them.
Click here to find out more about the all-electric Dacia Spring...