All-new Renault Clio: supermini to live-on with hybrid power and advanced tech
The new Renault Clio will appear before the brand goes fully electric in 2030, and our exclusive images preview how it could look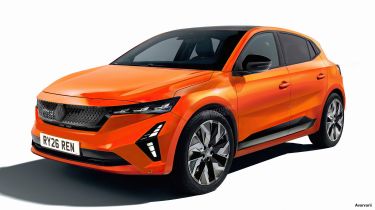 Renault is pushing ahead with plans for an electric rebirth of its iconic 5 and 4 models, but the company isn't about to forget its regular supermini, the Renault Clio. Auto Express can reveal that work has started on a new generation of the popular model, complete with petrol-based powertrains.
The supermini market has been shaken up dramatically in recent months, not least by the disappearance of the Ford Fiesta, one of the Clio's traditional rivals. Renault itself has switched the facelifted version of its current offering to hybrid power in several key markets, including the UK, and in the longer term the brand has committed to introduce only pure-electric vehicles from 2030 onwards.
However, speaking exclusively to Auto Express at the recent Munich Motor Show, the company's Chief Technology Officer, Gilles Le Borgne, stated firmly that in the meantime, the Clio has a future beyond its current generation and will be sold alongside the reborn 5 and 4.
"We are working, as we speak, on the next generation of Clio," Le Borgne said. "And that car will have some ICE engines because it will be on sale before 2030."
Renault is likely to build on the current Clio's technical make-up for a new version, which is set for a reveal in 2026. Our exclusive images take the existing car's profile and adopt some of Renault's latest combustion-engined styling cues, as introduced on the Rafale hybrid SUV.
Inside, the next generation is expected to get upgraded materials, as well as a switch to the same Android Automotive-based infotainment system that is used on the Megane and Scenic.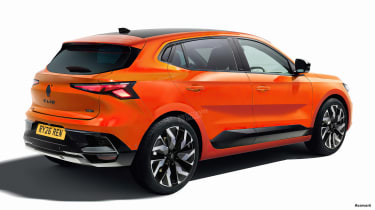 The next Clio is likely to remain hybrid only in the UK, although it may be available with a choice of power outputs. It's also conceivable that at some point in the next Clio's life the hybrid could be joined by an all-electric version that offers greater practicality than the 3.7 metre-long reborn R5.
Le Borgne stopped short of confirming that the Clio could adopt this twin-track approach on powertrains, but he acknowledged that the car's CMF-B platform and the CMF-BEV architecture used by the 5 are linked closely enough to make such a move technically feasible.
"You can have the same top hat, with BEV underneath or ICE underneath," he said. "The general architecture, with the R5 and R4, is dedicated pure electric, but the hard points, from an industrial design point of view, can be cut to make a combustion-engined car, too."
Renault has also gone through a huge cost-cutting programme to make CMF-BEV more financially viable; at least some of these modifications are expected to be fed back across to CMF-B to help boost the profitability of ICE variants.
The powertrains offered on the next Clio could well be developed by a new company formed by Renault and Chinese giant Geely. The two firms' engine divisions have combined to incorporate 17 existing factories, five development facilities and more than 19,000 staff. The new company
Partnership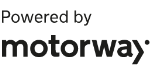 Need to sell your car?
Find your best offer from over 5,000+ dealers. It's that easy.
will be tasked with producing even more efficient petrol-hybrid systems, potentially for sale beyond the Renault-Nissan-Mitsubishi Alliance. Renault Group CEO Luca de Meo believes that splitting the division off makes it more answerable to market forces on cost, as well as opening up greater economies of scale.
Click here for our list of the best superminis on sale in the UK...