New 2020 Renault Clio: prices, specs and powertrains
The latest Renault Clio range starts from £15,895 – and a new hybrid powertrain bolsters the Ford Fiesta rival's lineup
Renault's fifth-generation Clio hatchback gains an electric boost thanks to the launch of a hybrid powertrain. The E-Tech model sits at the top of the range in terms of power and efficiency, with the promise of covering off urban drives using electric power for roughly 80 percent of the time.
Prices for the Clio range as a whole start from £15,895, for a car which, in the Auto Express New Car Awards 2020, claimed our "Supermini of the Year" award, beating back competition from the likes of the Ford Fiesta, Toyota Yaris and Volkswagen Polo for its superior practicality, technology and refinement.
The Renault Clio line-up is based around four trim-levels – Play, Iconic, S Edition and R.S. Line. Entry-level Play models come as standard with 16-inch steel wheels, LED headlights, air-conditioning, cruise control, a DAB radio and electric front windows.
There's also plenty of standard safety equipment, such as lane departure warning, lane keeping assist, autonomous emergency braking and traffic sign recognition. Buyers also get six airbags as standard and a speed limiter.
Iconic models are priced from £16,895 and benefit from 16-inch alloy wheels, more heavily tinted rear windows, keyless entry and rear parking sensors. There's some extra chrome trim for the cabin, too, along with a leather steering wheel and a seven-inch touchscreen with Apple CarPlay and Android Auto.
The Clio S Edition starts from £18,595. It builds on the Iconic model's specification with larger diamond cut 17-inch alloy wheels, automatic wipers, front parking sensors and a rear view camera. Interior tech is improved, too, with a seven-inch digital instrument cluster, a 9.3-inch infotainment system and an improved stereo system.
Renault is yet to release any plans for a full-fat R.S.-badged hot hatchback – but buyers who want a racier look can opt Clio R.S. Line. It starts from £19,095 and gets a more aggressive front bumper, a gunmetal grey spoiler, a chrome exhaust tip and a unique set of 17-inch alloy wheels.
Inside, there's a pair of R.S.-branded sports seats, a perforated leather steering wheel, some red trim for the dashboard and an aluminium pedal box. The R.S. Line model also brings a few extra options such as a larger digital instrument cluster, heated leather seats and a wireless smartphone charging pad.
New 2020 Renault Clio: engines and drivetrains
The Clio range opens with a naturally aspirated 1.0-litre three-cylinder petrol engine, which develops 71bhp and 95Nm of torque. The unit is mated to a five-speed manual gearbox and offers a rather pedestrian 0–62mph sprint of 16.4 seconds – although its fuel economy makes up for the lack of performance, with a claimed figure of 52.3mpg.
Above that sits Renault TCe 100 unit, which is a turbocharged version of the same 1.0-litre unit. Power and torque figures rise to 99bhp and 160Nm respectively, which also sees the Clio's 0–62mph drop to 11.8 seconds. Fuel economy is also slightly improved with a claimed WLTP figure of 54.3mpg.
Topping the petrol range is Renault's TCe 130 unit. It's a turbocharged 1.3-litre four-cylinder engine, with 124bhp and 240Nm of torque – enough, says Renault for a 0–62mph time of nine seconds flat. It's also only available with a seven-speed automatic gearbox and offers fuel economy figures of up to 49.6mpg.
The only diesel option is the dCi 85. It features a turbocharged 1.5-litre four-cylinder unit, which develops 84bhp and 220Nm of torque – and is mated to a six-speed manual gearbox as standard. The unit also returns 67.2mpg on the WLTP combined cycle.
Sitting at the top of the hatchback's line-up is the Clio E-Tech hybrid. The system features a 138bhp 1.6-litre petrol engine, two electric motors and a 1.2kWh battery pack. Renault says the system should reduce urban fuel consumption by around 40 percent compared to a conventional petrol car.
New 2020 Renault Clio: design and platform
The new Clio is slightly shorter than the car it replaces at 4,050mm. It measures 1,798mm wide, while its wheelbase is 2,583mm – again, a few millimetres shorter than the Mk4 Clio's. However, the new car is significantly lighter than the outgoing version, with a kerbweight on the lightest variant of just 1,042kg, which Renault says is the result of switching to its all-new CMF-B chassis architecture.
The latest Renault Clio is all-new from the ground up. Every body panel is slightly different, although its exterior is clearly an evolution of the preceding model. Renault was wise to remain true to the old car's styling – the Clio is Europe's best selling supermini, shifting 450,000 units in 2018 alone, with many buyers citing the car's design as a primary reason for purchase.
"We had so much to build on with the Mk5 Clio," Renault's design chief Laurens Van den Acker told Auto Express. "It would have been a shame to throw it away. So we've focused on keeping what is good and changing what needed to be changed. The exterior design is an evolution, but the interior is where we can make the most progress, so it's a revolution. It's the start of our interior design revolution."
The exterior is a mature development of the Mk4. Renault's prominent 'face' remains, albeit with full LED headlights that are standard across the range. The bonnet is a complex pressing, incorporating a central "rib" that runs up from the badge – but the side surfacing is less fussy, with a subtle "gill" that blends into a pair of creases running back from the front wheel arch.
The rear door handles continue to be integrated into the C-pillars, in an attempt to give the five-door-only Clio the look of a three-door. At the rear, meanwhile, the Mk4's prominent shoulders are more neatly integrated, and there's a sharper crease on the hatchback panel.
The Clio has what Van den Acker calls a "more athletic, sporty interior" which should feel more spacious and airy, despite the fact that the Mk5 Clio is around a centimetre shorter than the vehicle it replaces. This has been achieved by trimming away millimetres from interior components. "As an example, we have a smaller steering wheel and a smaller steering wheel column," Van den Acker explained. "This helps to free up a bit more knee room for the driver."
At the heart of the Clio's front cabin is its new infotainment system. It's angled towards the driver and is also slightly curved. Renault's newcomer also switches to a digital instrument display, with either a seven-inch or 10-inch panel being offered. The larger version is capable of showing navigation information in between the virtual dials.
The Clio E-Tech hybrid features a range of EV-specific displays for Renault's seven-inch digital instrument cluster and dash-mounted infotainment screen, which relay information about the vehicle's battery charge level and electric motor status. There's also a unique gear lever with an "E-Tech" badge and an "EV" button which puts the car directly into all-electric mode, providing there is sufficient battery charge.
Finally, the Clio's design team has retained conventional rotary controls for the air-conditioning and heating, however. They're fitted to the bottom of the central dashboard stack, beneath some neat 'piano key' buttons that operate the hazard lights and other functions.
"Some companies have made a mistake by putting the HVAC [heating and ventilation] controls in the screen," Van den Acker told us, clearly referencing the brand's French rival PSA Peugeot-Citroen. "There's nothing quite so simple as a button that allows you to change the temperature even with your eyes closed."
Renault Clio: how it's evolved
Renault Clio I (1990-1998)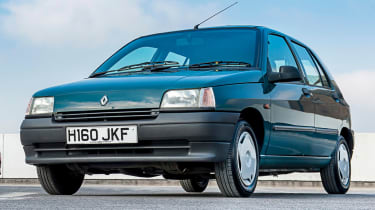 The original Clio was a watershed moment for Renault, replacing the much-loved 5 and also kick-starting the switch to names instead of numbers for the brand's mainstream line-up. Helped by clever Nicole and Papa marketing, the car was a regular feature in the UK best-sellers list.
Renault Clio II (1998-2005)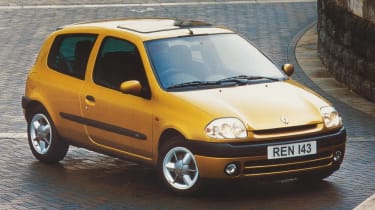 Codenamed X65, the second-generation Clio majored on comfort and space – but did little to really improve the interior quality. Bulbous design incorporated plastic panels in a few key areas. The wildest roadgoing Clio ever, the bonkers rear-drive, mid-engined V6, was based on this generation.
Renault Clio III (2005-2012)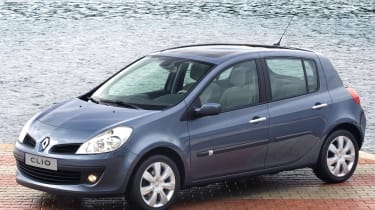 The Clio grew up for its third iteration – in both size and weight, because it tipped the scales around 130kg heavier than the car it replaced. It shared parts with the Nissan Note and Micra, and also introduced the estate body style to the Clio name. It was the last of the breed to be offered as a three-door, too.
Renault Clio IV (2012-2019)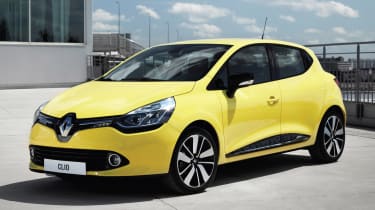 The biggest Clio ever – and it'll remain so for at least the next seven years – the Mk4 has scored on its emotional exterior design, but fallen down against rivals on cabin quality. Despite this, its sales have grown every year since launch, and it was the second best-selling car in Europe in 2018.
Do you think the new Mk5 Renault Clio is the best looking Clio yet? Let us know your thoughts below…