New Renault Scenic aims to make parents fall in love again
Exclusive: Renault design boss says the new Renault Scenic will play the role of Cupid for stressed parents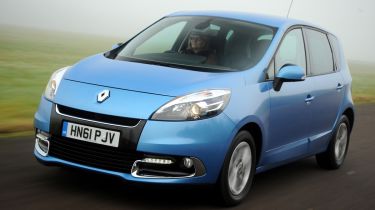 Next year's new Renault Scenic is set to rekindle romance in households across Europe according to Renault design boss Laurens Van Den Acker. Speaking exclusively to Auto Express, Van Den Acker said: "The MPV's soul needs to be reinvented a little - it's up for reinvention
"Many mini vans are driven by parents who look like they don't love each other - I want them to fall in love again and we hope that the new Scenic will help them do that."
• Frankfurt Motor Show 2015: top news stories
Although Van Den Acker wouldn't reveal specific design details about the new Scenic and Grand Scenic models he did hint that they would have a bit more crossover attitude than currently, and would follow Renault's current design theme with a bold front grille featuring an oversized Renault diamond plus a few more curves than on the current car. Renault is "more Monica Bellucci than Kate Moss" according to Van Den Acker, and he aims to make all Renaults "Sensuous and voluptuous".   
"We need to make sure that Renaults are recognised in all markets," he said, "Even in some markets where we have a small market share. That's why you can see the link between our cars in the A segment [Twingo] right the way up to the D segment [not for UK Talisman]."
The Scenic and Grand Scenic will get slightly different design treatments, with slightly different front ends. At the back the Scenic will have a curvier behind, like the new Mégane, while the Grand Scenic will be more upright like the current car.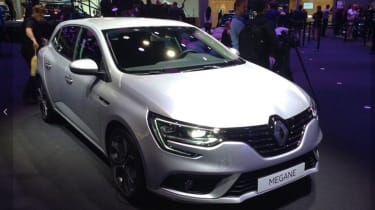 A Renault insider revealed to us that the Scenic would sit between the Captur and Kadjar in the Renault range, while the seven-seat Grand Scenic would sit above a third SUV in Renault's line-up: the upcoming new 'Koleos', based on the Nissan X-Trail platform, also offering seven seats.
The new Scenic is also likely to feature Renault's 9-inch portrait-style tablet screen, Multisense control system and 3D tail lights as seen on the new Megane. It's also possible that four-wheel steering will feature, as on GT versions of the new Megane, to aid manoeuvrability especially around town. Expect engines to mirror those available in the new Mégane, which will go on sale in Europe early next year, but six months later in the UK in right-hand drive form.  
The new Scenic is set to make its debut at the Geneva Motor Show next March and go on sale in the UK in late 2016 or early 2017.
How do you like Renault's chances of sparking romance among stressed parents with a new comapct MPV? Let us know in the comments below...