Long-term test review: Skoda Superb Estate
Final report: Launch of new model means some top deals on our car
Mileage: 9,654Fuel economy: 32.7mpg
Our time with the Skoda Superb Estate is drawing to a close – and time is also up for the model itself.
As you may have already seen – and I saw myself at the recent Geneva Motor Show – there's an all-new model on the way, and very smart it is, too.
• All-new Skoda Superb: all the details
With a handsome new look and some advanced tech inside (below), it promises to be a significant step forward for the Superb.
But its arrival later this year in the UK means that there will be deals to be had on the outgoing car, which is still a pretty convincing package in its own right. We're running an Outdoor, and supply of that model is now limited. But there are still slightly more upmarket Outdoor Plus models available.
It comes with a list price of £30,240, but after a bit of scouting around, I found some models available with discounts of around £5,000 – £24,993 was the cheapest on offer at the time of going to press.
So what do you get for your money? A really well built estate with a punchy 2.0-litre diesel engine, smooth-shifting DSG gearbox, four-wheel drive – and acres of space. It was only recently, in fact, that I fully appreciated just how roomy the Superb is in the back seats.
Generally my children sit there, but on an airport run to pick up friends, the kids were left at granny's and I sat in the back and let my wife take the wheel. Even for a six-footer like me there was loads of legroom and decent headroom – you'll struggle to find anything at this price that's quite so vast.
Another recent first was taking the Superb along some rather muddy, bumpy country lanes to visit friends. For most of its time with me, KY14 AXD has encountered little more challenging than speed bumps and heavy traffic on the streets of south London.
But the four-wheel drive proved its worth, dispatching the tricky tracks with ease – a second feather in its cap after it proved suitably reassuring in some particularly difficult icy conditions in late December.
The Superb also boasts an array of the sort of Simply Clever features that Skoda has made its trademark, including the clip for parking tickets in the front windscreen. I've found this particularly handy for slipping temporary notes in when I've had to nip out of the car unexpectedly.
There's no shortage of 12V charging points, either – in the front and rear, as well as in the boot – while a temporary space saver spare wheel is a worthwhile addition at £100.
However, if you value a car's tech highly, the ageing Superb may not fully convince. There's nothing inherently wrong with what it offers, but this area of the market moves so quickly that it feels some way short of the cutting-edge kit available elsewhere.
So, what's the verdict? Would I recommend splashing out on this ageing but impressive family wagon? If you're the kind of person who values a great deal rather than high fashion, you should certainly consider it. £25,000 is a decent price for such a competent, robust all-rounder.
But if you could nudge that discount down even further to around £24k, I'd say you'd got yourself a brilliant bargain.
Skoda Superb Estate: report 2
Second report: Family car is convincing our man of merits of Skoda ownership
Mileage: 8,886 milesFuel economy: 30.7mpg
I am thoroughly enjoying running our Skoda Superb Estate. But I've noticed a growing trend whenever I inform people what my current car is. It's a kind of quizzical look – a step short of an overt "Really?" but definitely expressing mild bafflement.
As most of my acquaintances are in the know car-wise, it's not as if they're unaware of the big strides Skoda has made in recent years. So it's probably more to do with the fact I may not be what's considered a typical Skoda owner.
• New Skoda Superb revealed: full pics, details and video
According to YouGov's fascinating online brand profiler too, Skoda owners are more likely than other car owners to be over 60, have an interest in trekking and birdwatching, read the Daily Telegraph and avidly watch supernatural TV drama Remember Me. (I've never even heard of it.) There's also a fair chance that they'll play golf.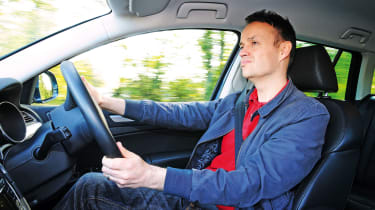 Er, that's not me. Far from it. But I'm happy to join their ranks, because the Superb is such an accomplished model and easy car to live with.
I'm finding it relaxing to drive, comfortable on long trips – as it proved on a Christmas excursion to Scotland – and very well built. It's massively spacious, too. I've lost count of the number of times I've taken advantage of the huge 1,865-litre loadspace with the seats down.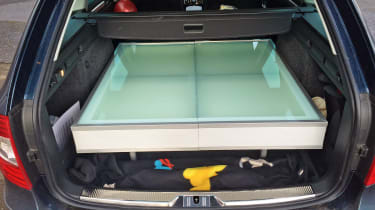 Most recently it comfortably accommodated a large coffee table that I sold on to a local furniture shop. If I hadn't had the Superb, I'd have had to pay a collection fee.
Fuel economy is improving, too. In our last report the Superb recorded a disappointing 28.3mpg from its 168bhp 2.0-litre diesel engine. That's now moved on to 30.7mpg, although I'd still hope for better if it was being treated to regular motorway running.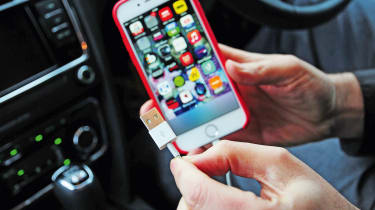 Admittedly, the infotainment system has been a bit of a mixed blessing. It's not the most up-to-date set-up, but the fact it has a six-disc multichanger is a real bonus, as I can pre-load it with my kids' CDs. On the downside, I can't connect my iPhone 6, and I've tried and failed to pair four different phones via Bluetooth, with no success.
Generally speaking, though, the Superb is making light work of family life with the Hopes. A sexagenerian bird watcher I may not be, but I know a good car when I see one – and that's exactly what the Superb Estate is.
Skoda Superb: report 1
First report: Spacious family ferrier is the latest model to join our fleet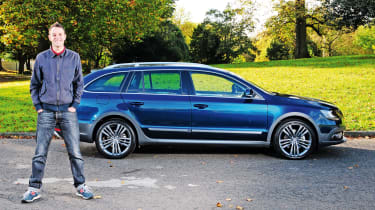 Mileage: 6,553 milesReal-world fuel economy: 28.3 mpg
When it comes to estate cars, space is the name of the game – and few offer quite as much as the latest addition to our fleet, the new Skoda Superb.
I've taken control of the keys following a six-month stint with its ever so slightly smaller sister, the Octavia Estate – and while there are similarities between the pair, there are marked differences, too.
And that's to be expected when you consider the price difference – £29,240 for our 2.0 TDI 4x4 Superb Outdoor against £23,115 for the Octavia 2.0 TDI Elegance.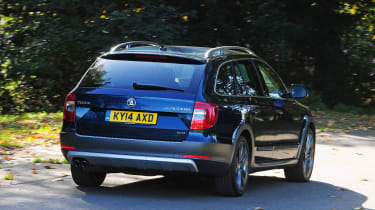 So what does your extra £6,125 get you? Well, the most obvious difference is simply the general feel – the doors shut with a meatier clunk, everything just seems better constructed and it offers a more refined experience behind the wheel. The Superb is, to put it simply, a much more substantial car, and one that, if you are prepared to put badge prejudice aside, stands comparison with models from so-called premium marques.
Then there's the question of capacity. Its 633-litre load bay (1,865 with the seats down), means there's even more space to play with than in the Octavia (610 and 1,740 litres respectively).
With two young daughters, I usually fill whatever boot space I have available, so this is one element of the Superb I'm grateful for – I feel confident that it'll cope adequately with a Christmas trip to Scotland when it'll have four people's luggage, a toddler's buggy and, no doubt, numerous presents to deal with.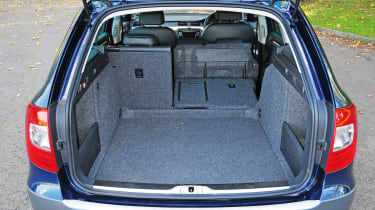 On the road, the DSG transmission makes it a relaxing car to drive, especially on the motorway. I've driven smoother autos, but it's only particularly sudden bursts of acceleration that see it momentarily search for the right gear. It works perfectly well most of the time, and the engine has decent punch.
The ride is just that little bit more mature than the Octavia's, too – it's much softer over speed bumps. And there's the extra reassurance of four-wheel drive, which will certainly be of use on my festive trip to Angus, where poor weather is a way of life in December.
So, a higher list price than the Octavia buys a better car, right? Well, yes, but I'd argue not a better value one. For most, the extra capacity – both in the boot and in terms of passenger space – will be welcome rather than essential, as the Octavia accommodates pretty much all you can throw at it.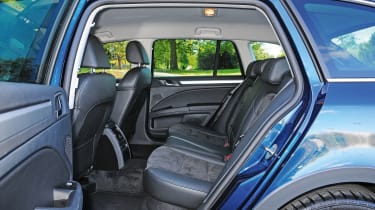 The Superb hasn't been without its niggles, either, some of them due to it being an older model than the Octavia.
For example, the first thing I do with a new car is fit child seats, and this proved fiddly in the Superb. Unlike the Octavia, there are no casings for the Isofix points, which meant using the temporary yellow plastic moulds that came with my daughter's Kiddicare seat. It took a good few minutes of fumbling to get the seat installed safely.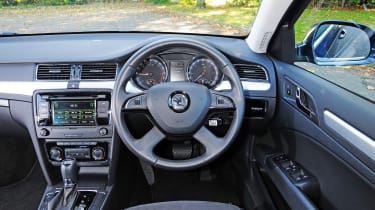 I am also disappointed that there's no DAB radio or sat-nav on my Superb – a Columbus system costs an extra £1,770. I could upgrade to them with Outdoor Plus trim, but for around £30,000 I'd expect them to be standard. The graphics on the infotainment screen look a little dated, too, and neither I nor my wife has managed to pair our Apple and Android smartphones via Bluetooth.
But these are minor gripes, as the Superb still stands out as a worthwhile alternative to more expensive execs. I'm thoroughly looking forward to piling on the miles in the coming months.
*Insurance quote provided by AA (0800 107 0680) for a 42-year-old living in Banbury, Oxon, with three points.