Skoda Yeti
Skoda's Yeti crossover takes the overall Auto Express New Car Award for 2010.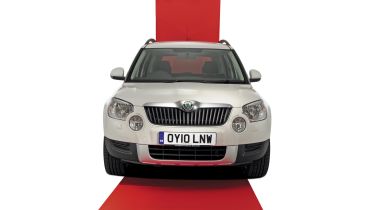 Why it won...
The winner of our Car of the Year prize has to be the unanimous choice of our judging panel, and is picked from our line-up of class champions.
This year, the award goes to a car that blends the looks of an off-roader with the versatility of a compact MPV, but doesn't demand the dynamic or financial compromises usually associated with either.
The Skoda Yeti mixes tough Tonka toy looks, sharp handling and a high-quality and spacious cabin with the brand's famed value-for-money pricing and customer service. Its brilliant engine line-up ranges from the entry-level 1.2 TSI (arguably the sweetest of the lot) to a 168bhp 2.0-litre diesel, and buyers can also choose between two-wheel-drive or 4x4 models.
In addition, the VW Group's excellent twin-clutch DSG transmission is available as an option. Best of all is the price, as the Yeti range kicks off at less than £14,000.
In a year that has seen the arrival of some truly special new cars, the Skoda is a worthy winner of our overall crown.
[[{"type":"media","view_mode":"content_narrow","fid":"69783","attributes":{"alt":"","class":"media-image"}}]]