Suzuki Swift vs Toyota Yaris vs Skoda Fabia
Can the new Suzuki Swift take the lead in the supermini market with a turbocharged engine? It takes on the Toyota Yaris and Skoda Fabia
It's been a long time coming, but Suzuki has finally fitted a downsized turbo-petrol engine to its all-new Swift supermini, meaning the Japanese model can now compete with rivals such as the Skoda Fabia.
In the guises we're testing here, both cars use small blown petrol engines to deliver a useful blend of performance and efficiency, while Toyota's facelifted Yaris sticks to a tried-and-tested naturally aspirated unit. A good supermini has to cover all bases, and we know the class is already full of strong contenders when it comes to all-round appeal.
• Best superminis on sale right now
It's fair to say that while the previous Swift drove well, it wasn't the most versatile supermini on sale, so with an all-new platform underpinning the sleeker and more practical body, can the Suzuki retain its trademark fun driving dynamics while adding more usability?
Superminis like these are the heartland of the British car market, so the winner will have to balance fun, frugality, versatility and equipment at an affordable price. We put this trio through the Auto Express road test to find out which one comes out on top.
Suzuki Swift
| | |
| --- | --- |
| Model: | Suzuki Swift 1.0 SHVS SZ5 |
| Price: | £14,499 |
| Engine: | 1.0-litre 3cyl turbo, 109bhp |
| 0-60mph: | 9.3 seconds |
| Test economy: | 46.1mpg/10.1mpl |
| CO2: | 97g/km |
| Annual road tax: | £130 |
The new Suzuki Swift's styling is an evolution of its predecessor's, but under the skin, there are some more major changes, including a new chassis and three-cylinder turbo petrol. It's this engine we test here in range-topping £14,499 SHVS SZ5 spec.
Weighing so little, and with decent performance from the punchy turbo triple, the Swift is surprisingly brisk. The 1.0-litre engine is combined with a mild hybrid system that consists of a small 12-volt lithium-ion battery pack mounted underneath the passenger seat, and an Integrated Starter Generator that helps delivers a 50Nm burst of torque.
Total output stands at 109bhp and 170Nm, which combines with the manual gearbox's light shift action to help speed up changes. It meant the Swift sprinted from 0-60mph in 9.3 seconds – the fastest on test. With the most torque here, it was also quickest in gear, matching the Skoda at 10.9 seconds between 50-70mph in fifth, then eclipsing it between 30-50mph in third and fourth.
The lack of weight helps yet again, giving the Suzuki decent agility.The steering is nicely weighted, although there's not a lot of self-centring, and there's some mild torque steer as the electric motor cuts in, but the controls are all nicely matched in terms of weight and response, which encourages you to make the most of the Swift's decent level of grip.
This stems from the firmer set-up, so while the Suzuki is relatively composed in corners, it's not as comfortable as the Fabia on A-roads and motorways.You feel more wheel movement in the cabin due to the tauter set-up, whereas the Skoda filters this out more. The Swift has retained its predecessor's character of being fun to drive, although it's also still not as refined as rivals at cruising speed.
Testers' notes: "The Swift's engine is a big leap forward, while it still handles sweetly and rides well. However, compared with established city cars like the VW Polo, its finish trails inside."
Toyota Yaris
| | |
| --- | --- |
| Model: | Toyota Yaris 1.5 VVT-i Icon |
| Price: | £15,295 |
| Engine: | 1.5-litre 4cyl, 109bhp |
| 0-60mph: | 10.7 seconds |
| Test economy: | 45.4mpg/10.0mpl |
| CO2: | 109g/km |
| Annual road tax: | £140 |
Underneath the revised skin of this facelifted Toyota Yaris is a new 1.5-litre petrol engine, which is the unit we're testing here in £15,295 Icon spec. However, its lack of a turbo might put it at a disadvantage versus its rivals.
Out on the road, the lack of a turbocharger is all too apparent. This was backed up at the track, where the Yaris was the slowest from 0-60mph, taking 10.7 seconds.
However, its deficit is even more noticeable when it comes to in-gear acceleration. Maximum torque of 136Nm is produced high up the rev range at 4,400rpm, so while the 109bhp power output is competitive, the Yaris (also the heaviest car here at 1,040kg) struggles to keep up.
Even with a six-speed transmission to shorten the ratios in the intermediate gears, the Toyota trailed the Swift by a yawning 3.7 seconds between 30-50mph in fourth gear. There's less pull at lower revs, highlighted by its 18.6-second time to accelerate between 50-70mph in fifth.
This means you have to work the gearbox hard to keep the engine in its power band. The first part of that process is made easier by the six-speed manual's positive shift, although it's made worse by the mechanical thrash from under the bonnet. At high revs, it's very intrusive.
The steering is reasonable, but the chassis isn't as composed nor as comfortable as the Fabia's, nor does it handle with the precision of the Swift. Turn into a corner and there's an adequate level of grip for a supermini, but it doesn't feel that reassuring, as the Yaris's softer suspension struggles to control roll.It's also noisier on the move – not helped by that engine – while the suspension damping doesn't filter out imperfections quite as adeptly as the Fabia's.
Testers' notes: "Toyota has added trim levels like the Bi-tone to try and boost personalisation, but it comes at a price. Even the base model is £1,000 more than the previous-generation Yaris."
Skoda Fabia
| | |
| --- | --- |
| Model: | Skoda Fabia 1.2 TSI SE L |
| Price: | £14,935 |
| Engine: | 1.2-litre 4cyl turbo, 89bhp |
| 0-60mph: | 10.6 seconds |
| Test economy: | 45.8mpg/10.1mpl |
| CO2: | 107g/km |
| Annual road tax: | £140 |
The Skoda Fabia is one of our favourite superminis, earning a coveted commendation at the 2016 Auto Express New Car Awards. So if the Swift wants to become one of the best cars in the sector, it'll have to overcome the Fabia's blend of practicality and performance. It's the £14,935 1.2 TSI 90 SE L that we test here, although our pictures show a Colour Edition.
Skoda's 89bhp 1.2-litre four-cylinder turbo engine has been around for some time, and while it's down on power compared with its two competitors here, a useful 160Nm of torque produced at only 1,400rpm ensures there's still plenty of usable performance on offer.
Credit to Suzuki; the Boosterjet triple is as smooth as this four-cylinder TSI unit, but the Skoda's engine is quieter and sounds less strained when revved hard, plus it emits a pleasing growl when extended. On the move, the Fabia doesn't feel too much slower than the Swift, while the gear change and steering have a similarly positive feel – although the Fabia's steering is more fluid, with less friction in the system, meaning it's more accurate.
It rides better, too, smoothing out bumps with more control and composure than the Swift, which is set up with a sportier feel. As a result, the Fabia's more refined approach means it's not only easier to drive on urban roads, but is also a better cruiser, with enough acceleration to cut it on the motorway.
It doesn't take many miles behind the wheel to realise the Fabia is a more mature product than its rivals here, yet it also serves up a decent level of grip and can be relatively fun to drive.
Testers' notes: "Despite many new superminis arriving since the Skoda's launch, the Fabia still feels grown-up. It's this level of refinement that's kept the car at the forefront of the sector."
Verdict
First place: Skoda Fabia
The Fabia's balance of practicality, performance, price and general usability is strong. It doesn't get quite as much kit as the Swift, but it's worth spending a bit more on upgrades, because it'll hold on to its value better. And if you're buying on finance, the deals are the most competitive. The addition of the 1.0 tsi will only make it an even more attractive proposition.
Second place: Suzuki Swift
Adding a punchy turbo triple has helped the Swift retain its fun character, and it has bolstered this with more usability due to the new platform and extra space inside. However, it's still not practical enough to topple the Fabia, with the small boot really hampering its chances. While it's efficient and should be cheap to run, it makes more sense in SZ-T guise.
Third place: Toyota Yaris
Despite some tweaks, the Yaris feels distinctly behind the curve. The 1.5 petrol lacks performance and refinement, while the ride and handling lack composure. Factor in the more expensive price tag and PCP deals, higher emissions and a more cramped feeling cabin, and the Yaris would be a two star car. However, its class-leading safety equipment earns it an extra star here.
Is it worth waiting for this model?
SEAT Ibiza 1.0 TSI SE Tech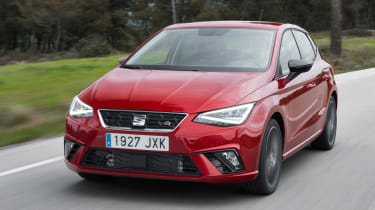 On sale: Now Price: £15,255Engine: 1.0-litre 3cyl, 94bhp
The Ibiza is pricier than the Swift, but it's more practical and comes with just as much kit. The 1.0 TSI is strong and delivers competitive emissions, while new connectivity means the SEAT will be vying for class honours.
Figures
| | | | |
| --- | --- | --- | --- |
| | Skoda Fabia 1.2 TSI 90 SE L | Suzuki Swift 1.0 Boosterjet SHVS SZ5 | Toyota Yaris 1.5 VVT-i Icon |
| On the road price/total as tested | £14,935/£14,935 | £14,499/£15,149 | £15,295/£15,295 |
| Residual value (after 3yrs/36,000) | £6,076/40.7% | £5,350/36.9% | £6,075/39.7% |
| Depreciation | £8,859 | £9,149 | £9,220 |
| Annual tax liability std/higher rate | £590/£1,179 | £516/£1,031 | £604/£1,208 |
| Annual fuel cost (12k/20k miles) | £1,416/£2,360 | £1,407/£2,345 | £1,429/£2,381 |
| Ins. group/quote/road tax band/cost | 8/£783/£140 | 27/£542/£130 | 9/£740/£140 |
| Cost of 1st/2nd/3rd service | £279 (2yrs) | N/A | £160/£290/£160 |
| | | | |
| Length/wheelbase | 3,992/2,470mm | 3,840/2,450mm | 3,945/2,510mm |
| Height/width | 1,467/1,732mm | 1,495/1,735mm | 1,510/1,695mm |
| Engine | 4cyl in-line/1,197cc | 3cyl in-line/998cc | 4cyl in-line/1,496cc |
| Peak power/revs | 89/4,400 bhp/rpm | 109/5,500 bhp/rpm | 109/6,000 bhp/rpm |
| Peak torque/revs | 160/1,400 Nm/rpm | 170/2,000 Nm/rpm | 136/4,400 Nm/rpm |
| Transmission | 5-spd man/fwd | 5-spd man/fwd | 6-spd man/fwd |
| Fuel tank capacity/spare wheel | 45 litres/£85 | 37 litres/repair kit | 42 litres/space saver |
| Boot capacity (seats up/down) | 330/1,150 litres | 265/579 litres | 286/1,119 litres |
| Kerbweight/payload/towing weight | 1,034/530/1,000kg | 925/455/1,000kg | 1,040/505/835kg |
| Turning circle/drag coefficient | 9.8 metres/0.32Cd | 9.6 metres/N/A | 10.0 metres/0.29Cd |
| Basic warranty/recovery | 3yrs (60,000)/3yrs | 3yrs (60,000)/1yr | 5yrs (100k)/1yr |
| Service intervals/UK dealers | 10k miles (1yr)/135 | N/A/149 dealers | 10k miles (1yr)/206 |
| Driver Power manufacturer/dealer pos | 3rd/15th | 19th/7th | 16th/4th |
| NCAP: Adult/child/ped./assist/stars | 81/81/69/69/5 | N/A | 89/81/60/86/5 |
| | | | |
| 0-60/30-70mph | 10.6/11.6 secs | 9.3/9.1 secs | 10.7/10.9 secs |
| 30-50mph in 3rd/4th | 5.7/7.7 secs | 4.5/6.6 secs | 6.4/10.3 secs |
| 50-70mph in 5th/6th | 10.9 secs/N/A | 10.9 secs/N/A | 18.6/28.3 secs |
| Top speed/rpm at 70mph | 115mph/2,600rpm | 121mph/2,600rpm | 109mph/2,800rpm |
| Braking 70-0/60-0/30-0mph | 51.1/32.1/10.0m | 45.3/34.6/9.2m | 50.6/34.2/10.4m |
| Noise outside/idle/30/70mph | 68/52/66/72dB | 67/52/65/72dB | 67/53/66/73dB |
| Auto Express economy/range | 45.8/10.1/453 miles | 46.1/10.1/375 miles | 45.4/10.0/419 miles |
| Govt urban/extra-urban/combined | 47.1/70.6/60.1mpg | 58.8/70.6/65.7mpg | 45.6/70.6/58.9mpg |
| Govt urban/extra-urban/combined | 10.4/15.5/13.2mpl | 12.9/15.5/14.5mpl | 10.0/15.5/13.0mpl |
| Actual/claimed CO2/tax bracket | 142/107g/km/20% | 142/97g/km/18% | 144/109g/km/20% |
| | | | |
| Airbags/Isofix/park sensors/camera | Six/yes/yes/£260 | Six/yes/no/yes | Seven/yes/£450/yes |
| Auto/stability/cruise control/AEB | No/yes/yes/yes | No/yes/yes/yes | £1,000/yes/yes/yes |
| Air-con/leather/heated seats | Yes/no/£180 | Yes/no/no | Yes/no/no |
| Met paint/xenon lights/keyless go | £555/no/yes | £650/LED/yes | £515/no/no |
| Sat-nav/USB/DAB/Bluetooth | £500/yes/yes/yes | Yes/yes/yes/yes | £650/yes/yes/yes |