Tesla hires veteran Apple developer to lead Autopilot self-driving tech team
Chris Lattner - responsible for the Swift programming language - joins electric car company Tesla after more than a decade at Apple.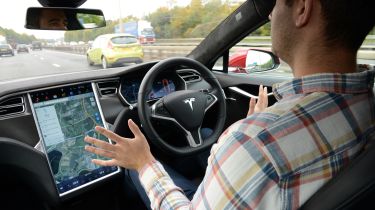 Tesla has announced that Chris Lattner – an eleven-year veteran at technology giant Apple – will be joining the electric car company as its new vice president of Autopilot software.
Lattner's eleven years at Apple saw him oversee and participate in several major projects, and the former Cupertino Director was primarily responsible for the creation of Swift – the coding language used to develop apps across many of the technology firm's most popular devices.
In a blog post on Tesla's website, the company explained that Lattner will be tasked with leading the Autopilot engineering team.
• Everything you need to know about Tesla Autopilot
The move comes at an interesting time given Apple's recent bid to refocus its auto industry efforts into developing self-driving technology instead of creating a car outright.
The computer giant revealed its position on self-driving cars in a letter to the US' National Highway Traffic Safety Administration in December 2016, revealing that it is "investing heavily" in the technology and is "excited by the potential of automated systems in many areas, including transportation".
It also comes as Tesla begins its push towards creating fully-autonomous vehicles. Late in 2016 all new Teslas received new hardware ready for full-autonomy, and the firm began introducing some of the so-called Enhanced Autopilot features in December.
• Apple Car: All the latest news
Tesla boss Elon Musk has set an ambitious target of the end of 2017 for full-autonomy from Autopilot, claiming one that of his cars will be able to drive from one US coast to the other without human intervention in a publicity stunt. It could be a few years more before the technology becomes available for motorists though.
2017 will be a big year for Tesla on two fronts. Alongside the continued development of Enhanced Autopilot, the firm will launch the Model 3 – its cheapest car yet with a waiting list of some 400,000 buyers. While we've seen pre-production versions of the car, we expect a full reveal of the final Model 3 to take place in Spring, ahead of first deliveries towards the end of the year.
Will Tesla be the first company to crack self-driving cars? Let us know your thoughts in the comments.