The top ten best cars for MPG and running costs
Driver Power asked UK new car buyers about their cars' MPG and running costs. These are the top ten highest rated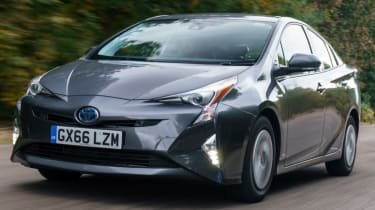 Winner: Toyota PriusIncorporated subcategories: Fuel economy, servicing costs, other running costs (road tax, insurance etc)
Toyota has done well in the MPG and Running Costs sector, with an impressive three of its cars finishing in the top 10.
Owners of the Prius find the hybrid saloon has the best combination of economy and low servicing and running costs. The Prius was ranked best for fuel economy and second-best for other running costs.
Servicing bills could have been lower, though; this is where rivals such as the Honda Civic and Lexus IS scored strongly. Honda owners tell us the Civic is the best car for low maintenance – perhaps helped by the pre-paid plans for new and used cars that can save up to £495 over regular checks.
Despite its all-electric drivetrain, the Nissan Leaf has to settle for third place in the running costs table. Conventional vehicles perform well here, too, with the BMW 5 Series and Toyota Aygo representing two very different classes of car.
Your view
"The Prius is a very safe car, so it has a really low insurance rating"
The top ten best cars for MPG and running costs