Deal of the Day: ultra-efficient Toyota Yaris for just £181 per month
Our Deal of the Day for 9 November is the Toyota Yaris, offering fuel-saving hybrid tech and a sensible kit list for well under £200 per month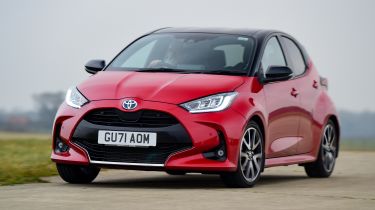 £181 a month for two years
£1,926 initial payment 
Appealingly low running costs
For anyone living in town, small hybrids can offer outstanding efficiency, without the hassle of plugging in. And that's certainly the case with today's Deal of the Day: the Toyota Yaris, which can spend more than half of the time running on electricity alone around town, and easily smash through the 60mpg mark at the same time.
We found this offer on the website of Reading-based broker firm Select Car Leasing. It requires an initial payment of £1,926, including the broker's own arrangement fee, and then costs £181 per month over two years, with an annual mileage limit of 5,000 miles. We'd be tempted, in fact, to bump this up to 8,000 miles per year, because doing this only adds a fiver or so to the monthly payments.
This is a fixed-term personal contract hire deal, so you'll never have the opportunity to own the Yaris and you won't be able to put any of the equity left in it after two years towards your next vehicle. Even so, if you're happy with giving up that bit of flexibility, the savings compared with Toyota's own offers are considerable. Right now, a similar deposit, length of agreement and mileage limit would give you monthly bills of £353 on a Toyota PCP arrangement – with an optional £13,275 if you want to buy the car at the end of the term.
Icon is the entry point of the Yaris range but fortunately, Toyota decided with this generation of the car that none of its supermini customers should have to live without the basics. As a result, even this most modest of versions gets a seven-inch infotainment system with Android and Apple integration, 16-inch alloy wheels, a reversing camera, adaptive cruise control and air conditioning.
As always with our Deal of the Day selections, prices and offers are subject to change, while terms and conditions apply. Our experts scour the market for the best deals on cars that we're happy to recommend, choosing only the ones that we think offer the best value.
To get today's Deal of the Day click here or take a look at yesterday's deal…