How to buy a van
When buying a van is key to driving your business forward, it's vital to make sure you do it right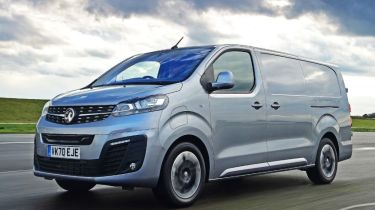 Running a business is a challenge at the best of times, and when you need transport for goods, services or staff, buying a van will almost certainly involve extra cost and hassle you could do without. 
Unfortunately, when buying a van there's also plenty of scope for learning lessons the hard way. So if you don't consider all the possibilities when it comes to the type of van you need, and the type of finance you'll use to pay for it, the ultimate price of those new wheels could be a lot higher than you bargained for.
This Auto Express guide to buying a van is designed to help you make sure you've covered all the bases when planning your new van lease deal or purchase. It's all good information that applies equally when you're looking for a new or used van, so read on for an overview of key factors to consider before taking the plunge.
The first question to ask yourself is how will your new van be used? There's a multitude of choices when it comes to sizes and body styles, and while for some the decision is simple for others it pays to think outside the box. Could you make do with a smaller van and hitch up a trailer for occasional larger loads? Would a trendy double-cab pick-up mean you can use it at weekends and get rid of the family car? Is the extra cost of a diesel van worth it if your mileage is low? Do you want to impress your customers with a prestigious or eco-friendly model, or reassure them with a van that's practical and affordable… only you know the answers, but unless you ask the right questions up front you could regret it later.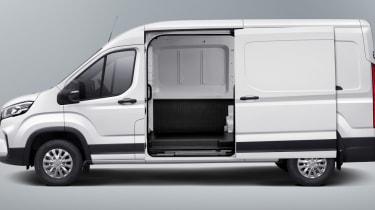 Luckily, with so much variety on offer in the van market, you should be able to find a commercial vehicle option without too much effort that will suit your trade down to the ground. You've got car derived vans, then small purpose-built vans, mid-sized panel van models and then your full-blown large panel vans. Beyond that there are 4x4 vans and pick-up trucks if you need some off-road ability and, of course, most of the above can be ordered with specialist conversions from Luton or box vans to flat-bed or tipper bodies. The choice is huge but it means there's almost certainly a vehicle out there for your business.
Then comes the task of speccing a van with the right kit for your job. If you're a trader that needs storage, then adding the right shelving and racks will be a great benefit, there's various load bay linings to consider that will protect the inside of the van and you'll probably need added security, too. Delivery drivers and on-call engineers could benefit from navigation and connected services, while long-distance traders could make the most of comfort seating and other in-cab luxuries. The trick is knowing which boxes are worthwhile to tick, and which are not.
Partnership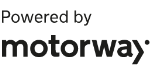 Need to sell your car?
Find your best offer from over 5,000+ dealers. It's that easy.
After that, you need to consider what your budget and finance options are. As a business, you need to consider the cost of a van without VAT included, and whether the van can be put through your business as an expense. If you're self employed, then your credit rating may be harder to determine, making it harder for you to buy on finance. It's also worth looking at the best time of year to buy a new van, as doing so around the start of the tax year in April may work for or against you in terms of taxation.
Once you've got your van, there's the rest of the finances to consider. How much do you set a side each month for repayments on finance? Do you have enough to cover road tax each year, or do you pay a little extra for the monthly Direct Debit option that allows you to forget about it? Then there's insurance. Will your van cover include public liability insurance, or even the contents of the vehicle if it's broken into?
There are a lot of factors to consider when buying any van. Our in-depth guide gives you all the information you need, just click on the links below for the knowledge you need to get motoring with the perfect van for your needs and budget...
Buying a van - top tips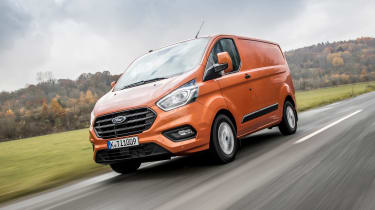 Choosing a van
The first step is to pick the right van for your needs. How big does your van need to be? If you're working in town, then a small or medium-sized van will be easier to get about in, if you can fit what you need inside. And again if you do lots of short city hops, then maybe an electric van would be worth considering - the latest EVs (electric vans) have the kind of range that is well suited to urban delivery routes, and even the occassional longer trip.
Long-distance work will be better suited to medium and large-sized vans, but be careful when choosing the biggest vans on sale. Their extra weight can have an impact on their payload capacity, which might not be much more than a smaller van. If you have a standard driving licence, then you are limited to a 3.5-tonne maximum vehicle weight (called Mass In Transit). If you carry heavy items, then you might be better off choosing a lighter medium-sized van with a greater payload capacity.
How many seats do you need? If you're a sole trader, then a two-seat van might be enough for the job. If you regularly travel three-up, then a three-seat van is a necessity, or there are even crew cab models that can carry up to seven passengers but you sacrifice load space with each extra row of seating.
If you do plenty of outdoor work, then maybe a pick-up truck is a better choice? A 4x4 van might be enough for your needs, or you could choose one of the small number of commercial SUVs on sale. These replace the back seats with a load area and blank off the rear windows, making a versatile 4x4 commercial vehicle in the process. These models will strictly be two-seaters, although they have the same kind of kit as you'll find in their SUV counterparts.
If you need regular access to the load area while you're working, then how about a large crew cab van with a pickup bed? If you're carrying tall items, then a high roof van might be a better choice, while combining this with a long wheelbase means you can carry just about anything inside.
And if your work vehicle doubles as your family transport, then there are more choices available to you. Pick-up trucks are a great option that have space for five, while there are crew van variants of the most popular vans on sale that offer lots of space and car-like luxuries if you want to make your van feel that bit more special.
Read more on choosing the right van for your business here.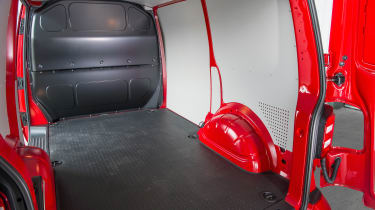 Speccing a van
You've chosen the van of your dreams, so now what do you need in terms of extras and options to make your life easier? As well choosing van length and roof height, you'll probably have to decide if you want a second sliding door to boost access to the load area. And at the back, you'll be able to choose between double doors or a top-hinged tailgate if you want it. 
Many manufacturers offer all sorts of shelving, racking and payload securing options inside. Floor runners can be added that allow you to put lashing eyes and other anchors in position on the floor, while a plyboard lining will help to keep the inside of the van looking tidy and prevent damage to the van itself that will reduce its resale value.
Think about the kind of safety and security features you need. Are you leaving items in the van overnight? If so, extra locks and anti-theft devices should be added, while separate locking for the van and the cab (where there's a bulkhead installed) will make it tougher for thieves to access the load area. Some security will be needed on your property to help prevent van theft, so consider putting in a drop-post where you park your van, and keep your van keys somewhere that they are out of range of the van to prevent remote unlocking by electronic key cloning.
If you're a long-distance driver, then think about comfort features for the cabin, too. The latest vans come with kit such as adaptive cruise control that can really take the strain out of motorway driving, while some vans can be had with truck-style suspended seats that boost comfort even further. Built-in sat-nav will help you find your way, but make sure you get a good deal on software updates so that the nav stays fresh for the whole time you run the vehicle.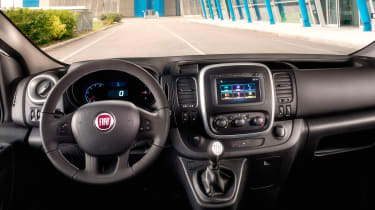 Paying for a van
We'd all love to be in a position of financial security that means we can buy a van outright. But in the real world, most people buying a van will be doing so on finance. However, if you see a van as an expense rather than an investment (and when you factor in depreciation, that's really what it is), then the finance route could be a better option, as you don't have to worry about losing cash on an old van further down the line.
Finance allows you to budget a monthly outgoing, helping to manage costs, while putting the van through your business accounts helps ease the financial burden, too. Agree a final value on the van when the finance agreement comes to an end, and you can trade in your existing van for a new one and keep your business looking professional without the hassle of buying a new van every few years.
Find out more about van finance options here.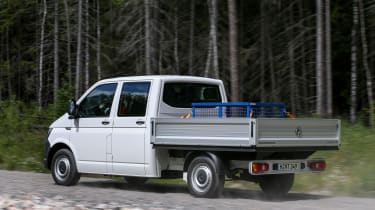 Van accessories and conversions
Once you've got your van, you might need to add some aftermarket extras to help you run it. Many manufacturers now offer aftersales services that help you make the most of your vehicle, with service plans allowing you to pay for maintenance over a set period, rather than having to stump up for servicing when it comes around.
Then there are accessories available that can add greater security to your van, such as deadlocks, steering wheel locks and door lock shields.
Van conversions offer even greater versatility for users that need a specific requirements from their commercial vehicle. There are in-van conversions that add extra shelving, refrigeration or specific tooling for your needs, while chassis cab vans are designed to take all sorts of specialist kit, ranging from tipper beds to box vans, Luton conversions and even low-loaders. Most manufacturers will offer a range of factory conversions but there are also private coachbuilders who will do the work.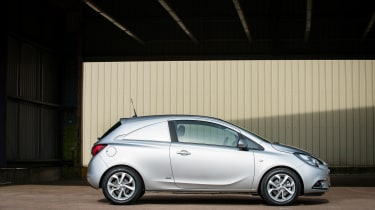 Van insurance
To get the best value cover for your vehicle and its contents, be honest with the insurance company about the van's use, your annual mileage and whether you keep contents within the van overnight.
Also declare if the van is parked securely overnight to get a bigger discount on your premium, and if you have extra security systems fitted, they could help reduce your costs, too.
Some insurance providers will also cover you for public liability insurance to ensure you're covered in situations that standard car insurance doesn't cover you for.
Find out more about van insurance here.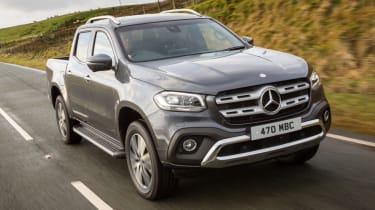 Van tax
Put a van through your business, and it will qualify for VAT exemption, but there will still be tax to pay on it. Vehicle Excise Duty (VED) is still payable, although unlike cars, there's a flat rate that all light commercial vehicles pay, which is currently £250. This covers vans, pick-up trucks and commercial SUVs up to 3.5 tonnes.
One grey area is the multi-purpose crew van. These can either fall into car tax categories or van tax, although the only way to be certain is by looking at the vehicle's V5C registration document. This will show if it's been registered as a van or a car, so will help you see how much it will cost in VED road tax. There's also Benefit-In-Kind tax to consider if you have private use of a van as part of your job.
Give us your top van buying tips in the comments section below...