Vauxhall's up! is taking shape
Vauxhall plans new city car, based on next-generation Chevrolet Spark platform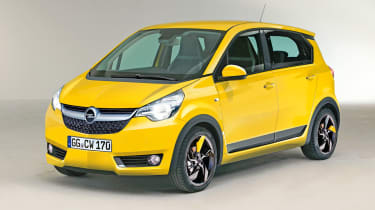 The new Corsa is due in only a few months' time, but Vauxhall is also forging ahead with plans for a new city car to take on the VW up! and Toyota Aygo.
The initial idea was to develop this model in a partnership with PSA Peugeot Citroen, but Vauxhall owner General Motors now wants to build it on the next-generation Chevrolet Spark platform instead.
• Vauxhall Corsa 2014 facelift release date & specs
Our exclusive image reveals how the car could look, and designer Mark Adams told us he's found the styling tricky, adding: "People don't just want a bland little box." He suggested that the Adam, Corsa and this newcomer would each have its own "distinct personality".
An insider said UK prices would start at "less than £7,000", making the car cheaper than the Skoda Citigo. It's likely to feature a naturally aspirated version of the 1.0-litre petrol three-cylinder turbo from the Adam Rocks.
This new 1.0-litre three-cylinder Vauxhall engine was revealed last month, and it will debut in the Adam supermini. There will be two power outputs, 89bhp and 114bhp, with both developing 166Nm of torque. In fact, Vauxhall claims the little motor generates more low-down torque and pulling power than its 1.6-litre naturally aspirated engines.
Stop-start is fitted as standard, and that means the engine should be able to emit less than 99g/km in a lightweight city car, making it free to tax. The new engine gets a lighter gearbox as well, so the weight saving should help the new up! rival to keep weight as low as possible.
Boss Karl-Thomas Neumann said: "We realise it's smarter to build on our platform. We can do many things quicker and fit our latest engines and tech."