Vauxhall Adam vs Fiat 500
We bring the cool new Vauxhall Adam and the trendy Fiat 500 together for a city car shoot-out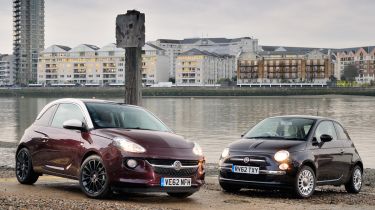 Vauxhall hopes there's going to be a new name on everyone's lips: Adam. The bold new city car promises plenty of possibilities for personalisation and is named after the founder of the company's sister brand, Adam Opel. With the MINI and Fiat 500 in its sights, Vauxhall hopes to attract style-conscious buyers with the car's clever design, upmarket cabin and funky image.
The Adam gets a choice of three petrol engines and Jam, Glam or Slam trim levels. We test the mid-spec 86bhp 1.4-litre Glam model, which claims to major on elegance and sophistication. But can it rival the king of city car chic, the Fiat 500?
To find out, the Vauxhall goes head-to-head with the unique two-cylinder 500 TwinAir Lounge. So which will be the talk of the town?
Verdict
Vauxhall has pulled out all the stops to ensure the Adam can compete with the best in the class.
For starters, the amazing range of customisation on offer means ordering one will be part of the fun, plus you're unlikely to see another identical car. Cabin quality is a step ahead of the Fiat 500's, but the driving experience is average. The Adam's 1.4-litre engine is unrefined and short on character, while the handling could also do with more sparkle.
In addition, opting for 17 or 18-inch wheels means you get the stiffer sports chassis set up, which delivers an uncomfortably firm ride. And road noise is an issue as well. Add all this to the fact that the 500 TwinAir is cheaper, faster and cleaner, and the Adam falls short. This is a real shame, because the new car is a quality product – and with a better engine, more refinement and an injection of driver fun, it could be a real contender in this class.
Even though the Fiat is getting old, it's still a great car to own. A low price, stronger residuals and free road tax boost its showroom appeal, while out on the road its perky two-cylinder engine makes for an engaging drive. And while cabin quality isn't quite up to scratch, the cheeky looks and huge scope for personalisation help the car edge a narrow victory.