Vauxhall Corsa Excite review
The Vauxhall Corsa Excite offers decent levels of kit for not too much cash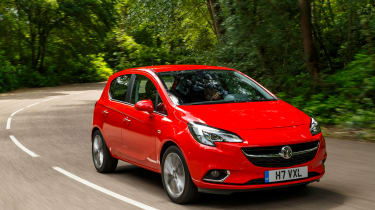 The Vauxhall Corsa Excite is a bit of a mixed bag, but if you add air-conditioning, it's the trim that offers the best mix of kit and value for money. The lack of split folding back seats is a bit of a mystery, but adding luxuries such as a heated steering wheel and seats adds a bit of a feel-good factor. We'd recommend the 1.0-litre turbo petrol model, as its mix of refinement, performance and economy is well suited to the Corsa's grown-up character.
The fourth generation Vauxhall Corsa has a wide range of trims, and Excite spec is expected to be the best-seller when it comes to private buyers. It falls in the middle of the range, and features decent kit, plus some upgrades that are normally found on more expensive cars, although on the other hand there are some puzzling omissions, too. List prices have been reduced to bring the Corsa Excite into line with rivals such as the Ford Fiesta Zetec and Volkswagen Polo SE, so the Vauxhall is a supermini that's seriously worth considering.
The Corsa Excite is branded as a special edition by Vauxhall, although it has been on sale since the car's launch, and there doesn't appear to be a limit on production numbers, either. It slots in above Design trim, and has the widest range of engine choices to go with it. Standard kit includes 16-inch alloy wheels, cruise control, auto lights and wipers, electric windows and mirrors, a heated steering wheel and heated front seats, plus Vauxhall's IntelliLink infotainment system, which allows you to sync your phone and download assorted apps for nav, radio and more.
More reviews for Hatchback
Climate control air-conditioning is an option, though, and there are plenty of other extras available on the Corsa Excite that aren't offered on other models in the range. These include Park Assist, a panoramic sunroof, plus the Technical Pack, which adds forward collision alert, road sign recognition, lane departure and front and rear parking sensors, although the Technical Pack is a pricey £1,300 option.
The broad engine range kicks off with the 69bhp 1.2-litre petrol, although this engine is getting a bit old now, and emissions of 125g/km aren't very competitive. For a few hundred pounds more, there's the 89bhp 1.4 ecoFLEX petrol, and while it's quicker than the 1.2, emissions of 120g/km are slightly better. You can add Vauxhall's Easytronic auto to the 1.4, and while the gearbox is sluggish in its responses, emissions are reduced to 110g/km.
Vauxhall also offers a 98bhp 1.4 Turbo petrol, which has decent pace and identical emissions to the 1.4 manual, at 120g/km. But the best petrol engine in the line-up is Vauxhall's new three-cylinder turbo. It makes 113bhp, so it packs a punch, but it's also extremely smooth and refined, making it a great motorway cruiser. Emissions of 115g/km are the best of any manual petrol Corsa, and this is the engine that we'd go for in the range. There's a single diesel option, too, a 1.3 CDTi with 74bhp. Although emissions of 99g/km mean it's exempt from road tax, it's a sluggish and noisy performer.
Whichever engine you go for, the Corsa Excite feels like an upmarket supermini. There's plenty of space inside, with enough room for three passengers in the rear, although the three-door model remains the more stylish choice, and the five-door is much easier to access for rear-seat passengers. The five-door has a 285-litre boot, but there's no 60:40 split for the folding back seat, and the seat back doesn't fold completely flat, either. This is a bizarre set-up, especially when the Corsa's rivals all have split-folding rear seats as standard.