VW electric car plans include an SUV, MPV and more 'emotional models'
VW boss Herbert Diess confirms that plans to expand its EV range based on the MEB platform are at an advanced stage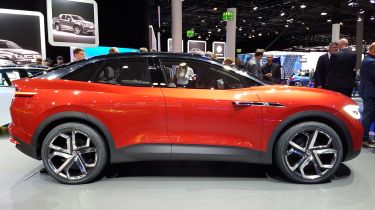 Volkswagen will follow up its I.D. pure-electric hatchback with a production version of the I.D. Crozz SUV - and then the pair will be joined by a saloon, a microbus and a further SUV, the firm's chief has revealed.
The German brand is already committed to five vehicles on the VW Group's new MEB platform, which is designed to maximise the packaging advantages of electric motors and batteries. The I.D. hatchback will be first - but VW boss Herbert Diess has now confirmed the body styles of the other four MEB cars his brand will definitely produce by early in the next decade.
• VW Group brands to launch 80 EVs by 2025
"The I.D. hatchback is proceeding well," Diess said. "We have just signed off on the exterior and the interior of that car a few weeks ago. Then we will have an SUV, a sedan, a microbus - which can also take us into the very important area of delivery vehicles - and one more SUV. We already have Tiguan and Tiguan XL so we have to reflect that in MEB as well."
Diess also admitted that VW is exploring options to create 'emotional' vehicles - a range that could include an all-electric successor to the existing Scirocco, as outlined by Auto Express in August 2017.
• Frankfurt Motor Show 2017: news
"Nothing is confirmed but we are exploring the emotional vehicles," he said. "We need to get our core of vehicles finalised, which will happen over the next five or six months; these are cars that will cover 70 percent of the market that we're aiming for. Then we can look at niches.
"There is the Scirocco, which we have not decided on a successor for yet. And there is also the Beetle and the Beetle Convertible. We've been asking ourselves if we can make emotional pure-electric cars, because there is no engine noise, for example. The answer, we think, is yes - so as soon as we complete our work on the core vehicles, we'll be looking at that side of things."
Is VW heading in the right direction with ts EVs? Let us know your thoughts in the comments...