VW ID family set to grow with more concepts in coming months
Two or three more Volkswagen ID concepts are coming in the next few months, ahead of 2020 EV launch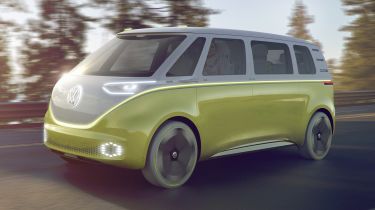 VW's all-electric I.D. family will show signs of growing in the next few months with more concepts due to be shown that could join the I.D. hatch on sale from 2020.
Speaking to Auto Express at the launch of the I.D. Buzz at the 2017 Detroit Motor Show, Volkswagen sales and marketing boss Jurgen Stackmann said: "We are exploring on our electric platform all the concepts that could be done.
"We've shown in Paris the most European concept [the I.D.], which is a compact car – spacious on the inside, compact on the outside, fully connected and autonomous ready when the systems are relevant.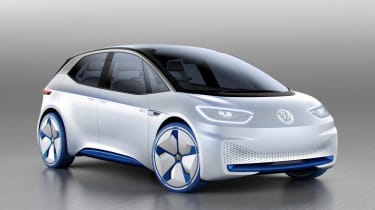 "We're now showing here the other extreme, which is maximum space with the same technology kit – it's important that we do that to leverage scale.
• VW's MOIA brand could get the I.D. BUzz as its first model
"Next we'll introduce you to two or three more ideas on the platform in the months to come to show the spectrum and we'll lay our cards very soon on what we can do."
Rumours circulating in Detroit suggest that an SUV and sports car could be two of the concepts we'll see.
Stackmann is hopeful that the I.D. Buzz will get such a strong reaction that VW has to build it. "I think this is the most realistic shot ever at the Microbus coming and we'll have to see in the next few weeks how big a potential market in the US could be," he said.
"The market for conventional MPVs wouldn't be big enough, but this actually combines functionality, space and command seating position with something unique – it's really cool. We're excited that we can scale this technology so much that this is possible."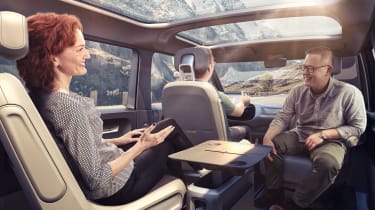 The reaction of the US public to the I.D. Buzz is crucial in whether it gets the go-ahead or not. "There's no other market globally where microbus has the emotional pull that it has in the US," said Stackmann. "It's quite amazing and the reaction has been phenomenal."
VW has committed to the I.D. hatch going on sale in 2020, with a target of the brand selling one million electric cars by 2025. "We want to become a volume player with the ambition to have a relevant share in the electric market," says Stackmann.
Would you like to see more VW I.D. concepts? Let us know below...