Volkswagen underlines focus on EVs and new battery tech at annual conference
The VW Group turned a £6.2bn profit in 2016 and believes the dark days of Dieselgate are behind it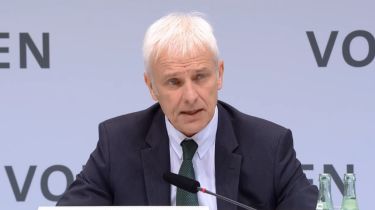 Volkswagen will push ahead with electric vehicle development, including a clear-stated aim to be a "market leader" in next-generation 'solid-state' battery technology, the company's boss has revealed.
Speaking at the annual VW Group press conference, where the firm revealed that its 2016 profits were €7.1billion (£6.2bn) from sales revenues of more than €217bn, Matthias Muller claimed the company was "back on track" after the Dieselgate scandal. He reiterated that VW must continue to push ahead with its "Strategy 2025", a programme of efficiency gains and a restructuring to allow the company to make new-model decisions more quickly.
Muller also said that continued focus on battery-electric vehicles (BEVs), and VW's plan to enter what he called the "booming economy segment" would play a key role in the firm's continued recovery.
"Together with Tata Motors, we plan to develop budget cars for the Indian market," he said. "Our colleagues at Skoda are leading the planned alliance for the Group. In China, we are working on an economy car with FAW, our long-standing joint venture partner. We are also in the advanced stage of negotiations with JAC to cooperate in putting inexpensive electric cars on the road in the Chinese market."
He added: "We regard battery technology as another future core competence. In recent months we developed and approved a concrete phased plan to achieve technological leadership in Europe by 2025."
Muller confirmed that VW is committing funds and resources to its own development centre for battery tech, to work alongside partnerships with outside suppliers. "The centre of excellence headed up by our lead VW brand is expected to begin operating in the second quarter of this year," he said. "It will assume responsibility for the development, procurement and quality assurance of all of the Group's battery cells and models.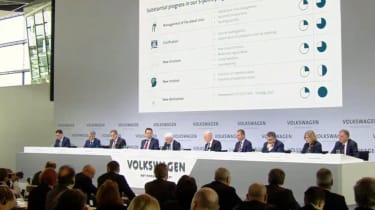 • VW partners with TATA Motors in India
"We will also be gradually developing process competence within the centre of excellence, starting in 2018 with a laboratory line and, probably from 2020 onward, with our own pilot line. At the same time, negotiations to establish partnerships in the field of battery cells are at an advanced stage. We expect to conclude these negotiations this year."
Muller argued that the battery infrastructure investment would help VW to push ahead with its plan to launch 10 EVs before the end of 2018, and more than 30 pure-electric cars by 2025. "The Volkswagen Group will gradually assume the position of world market leader in electromobility," he predicted. "To that end, we will systematically develop and expand our battery expertise as I have described, from lithium-ion batteries through to technology leadership in solid-state batteries, which we aim to achieve by 2025."
Solid-state technology is seen by the car industry as a key next step beyond lithium-ion batteries, because it can offer greater energy density and more efficient packaging to help increase range and reduce the amount of time required for recharging.
Most of the VW Group's brands returned healthy growths in profit. Skoda's operating profit was up by almost a third in 2016, to €1.2bn (£1.05bn), while SEAT made a profit of €153million (£134m) in the same period. Bentley shifted 11,300 vehicles, a rise of 6.4% over 2015's figure, but tougher market conditions and the costs of launching the Bentayga SUV meant that the British luxury brand's profit stayed close to 2015's figure, at €112million (£98m). Porsche, meanwhile, boosted its profits by almost 14%, to €3.9bn (£3.4bn).
The notable drop came at Audi, where profits fell slightly because of new-model launch costs (likely to include the Q2 and Q5) and a Dieselgate bill of €1.8bn (£1.4bn); the firm still made a profit of around €3bn (£2.6bn).
Do you think Volkswagen's focus on electric cars will pay off? Let us know in the comments...