New VW Golf vs rivals
Can the Volkswagen Golf reclaim its family car crown? We test it against the 1 Series and Focus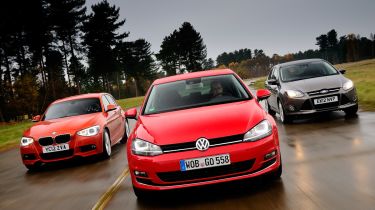 Welcome to the most important test of the year. Until recently, the Volkswagen Golf was the undisputed king of the compact family class, but in the past 12 months it's been overtaken by newer and more desirable rivals. So now there's a new seventh-generation model – and it's out to reclaim its crown.
While it looks similar to its predecessor, the Golf has a new lightweight construction, efficient new engines and a more spacious and upmarket cabin than before.
So has VW done enough to get back to the top? To find out, we grabbed the keys to one of the first cars in the UK – a left-hand-drive, German-registered model. The 148bhp 2.0-litre TDI GT is priced at £23,465 over here, and we pitched it against two talented rivals.
First up is our current class champ. The BMW 1 Series is great to drive, surprisingly practical, beautifully built and cost effective to run, and has hardly any chinks in its armour.
Representing the mainstream section of the market is the Ford Focus, which is comfortable and fun to drive. Factor in a tempting price and it'll push any newcomer hard.
So, is the Golf back at the top of its game? All will be revealed in this test.
Verdict
So has the new Golf done enough to reclaim its family hatchback crown? Yes... and then some. One of the best cars in the class has got even better, as this latest Volkswagen is bigger, faster and more efficient than before. Factor in its top-notch refinement, hi-tech safety systems, low running costs and spacious, upmarket interior, and it easily sets a new class standard. Yes, it looks a little expensive in GT trim, but then it comes packed with the sort of desirable kit that costs extra on its rivals.
Thanks to the Golf's brilliance, the BMW tastes defeat for the first time. While the 1 Series is still great to drive, beautifully built and cost-effective to run, the VW makes it feel cramped and uncomfortable. A 118d would have got closer on performance, but it costs more to buy and run.
Still, the BMW beats the Ford. The Focus is brilliant to drive, attractively priced and comes generously equipped as standard, but it's simply outclassed in this contest.
So after more than a year away from the top of the class, the Golf has reclaimed its place.