VW Golf 1.2 TSI vs Ford Focus 1.0 EcoBoost
The VW Golf now carries a tiny turbocharged engine. But can it knock out our current favourite, the Ford Focus?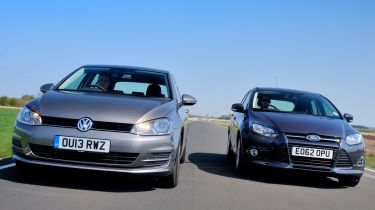 If you want to get ahead in the compact family hatchback sector, you've got to downsize. Virtually every major manufacturer now offers a model with a small-capacity turbocharged petrol engine that aims to deliver big-car performance with supermini running costs.
The latest to join the ranks is the new VW Golf, which gets the brand's tried and tested 1.2-litre TSI engine for the first time. Boasting a respectable 104bhp, and claimed fuel economy of 57.6mpg, the newcomer certainly looks good on paper, while in entry-level S guise it features an eye-catching £18,160 price tag. Factor in top-notch quality and first-class refinement, and the Golf promises to be a strong performer on its road test debut.
However, before it can start celebrating, the VW must face our favourite small-engined hatch: the 1.0-litre Ford Focus EcoBoost. With its sparkling driving experience, strong performance and low running costs, this Focus represents a stern test for any new arrival. And while it's around £100 more expensive than its opponent in this test, in mid-range Zetec trim it benefits from more power and a longer list of standard equipment.
Verdict
Does the Golf make as much sense in attractively priced entry-level guise? Well, it doesn't feel like a bargain-basement special, as it's every bit as refined, comfortable and solid as more expensive versions.
Elsewhere, the 1.2-litre TSI engine is a real gem, delivering smooth and eager performance, plus remarkably strong fuel returns. And as with other models, you get a spacious and practical interior, a big boot and classy, understated looks. However, the kit list is slightly spartan. Essentials such as Bluetooth and air-con are standard, but that's about it.
That's not a criticism you can level at the Ford, which is dripping with showroom appeal – alloy wheels, a leather-trimmed multifunction steering wheel and heated windscreen are all included. It also looks bolder than its rival, while the agile handling and keen engine make it more fun to drive. And although it's hampered by a small boot, the rest of the interior is spacious and robustly built. So is that enough to give the Ford victory? Not quite.
The Focus is better equipped, but can't match the VW's extremely strong residuals, great-value servicing pack and diesel-like economy. Factor in the superior practicality, top-notch quality and class-leading refinement, and the Golf takes a narrow win.