Volkswagen Golf vs Mazda 3
All-new Mazda 3 faces class-leading Volkswagen Golf in our family hatchback test
Welcome to our family hatchback shoot-out, where we pitch one of the hottest new models in the class against the established favourite in a bruising twin test. Click on the links below to read our full review of each car, then read on for our twin test verdict.
First up is the all-new Mazda 3, which aims to build on the award-winning success of the brand's talented and fashionable CX-5 crossover and sleek 6 saloon.
The rakish 3 hatchback promises real premium appeal, featuring head-turning looks and an upmarket interior. It also aims to be as fun to drive as Mazda's legendary MX-5 roadster. On top of this, it's lighter than its predecessor and packed with the company's efficiency boosting SkyActiv technology, so it should cost less to run than before.
As with other models in the Mazda line-up, the newcomer is available in three trim levels: SE, SE-L and Sport. And in the 3's road test debut, we run the rule over the fast and frugal 2.2D SE-L, which costs £20,745.
Going head-to-head with the Mazda is one of the most desirable five-door hatchbacks money can buy: the VW Golf. Now in its seventh generation, the car oozes class and quality, is practical and doesn't cost much to run. Plus, in 2.0-litre TDI guise, it's fast and fun to drive.
Head-to-head
Going green
Both these cars wear eco badges, and buyers will be familiar with the Golf's BlueMotion logo. It graces VWs with the latest fuel-saving kit, including stop-start and regenerative braking.
Mazda's SkyActiv models mix efficient engine tech with lightweight construction. But the highlight is the brand's i-eloop stop-start. It converts wasted energy into electricity, stores it in a capacitor, then uses it instead of the main battery to restart the engine.
Practical touches
Mazda's boot is smaller than VW's, and less well thought out. There's no 12V power supply and no shopping bag hooks, plus the Golf has an extra underfloor cubby. Still, the interior is packed with useful storage spaces.
Refinement
Engineers have worked to give the new 3 class-leading refinement – and they've largely succeeded. At idle, the smooth, free-revving 2.2-litre diesel is barely audible, registering 44dB on our sound meter. By comparison, the clattery Golf recorded a relatively high 48dB.
But on the move, the Mazda's advantage is eroded. While engine noise and wind noise are well suppressed, there's a lot of tyre roar. As a result, it showed exactly the same readings at 30mph and 70mph as the refined Golf.
Verdict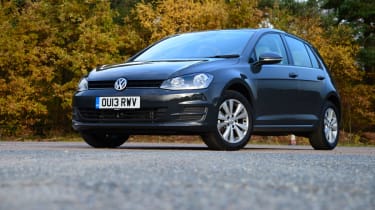 1st place: Volkswagen Golf
This was one of our closest road test verdicts of the year, but ultimately the Golf does just enough to take the win. Although it's the more expensive choice here, it's as cheap to run and has stronger residuals. It's also more practical, boasts a softer ride and is very nearly as good to drive.
The VW trails on standard kit, but it gets all the essentials, such as a DAB radio. Plus, while it can't match the Mazda's official economy claims, the Golf was more frugal on test, returning a strong 46.5mpg. You'll shell out less on routine maintenance for the VW too, thanks to a top-value £299 servicing pack. This covers the car for three years and 30,000 miles.
2nd place: Mazda 3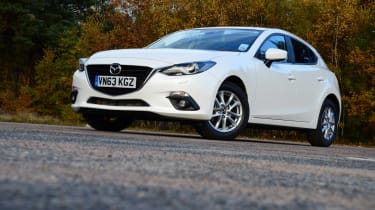 The new Mazda 3 is great value, fun to drive and surprisingly cost-effective to run. It's also fast, impressively refined and extremely well put together. Trouble is, it can't match the best in the class in terms of practicality, while the infotainment system is a little frustrating.
Mazda has ignored the trend for turbo petrol engines. Even so, the entry-level 99bhp 1.5 and 118bhp 2.0-litre petrol versions of the new 3 emit just 119g/km of CO2. There's also a 163bhp 2.0-litre that puts out 135g/km.
Unlike many rivals, the Mazda is also available as a four-door saloon. It has a 419-litre boot – bigger than the five-door's – plus is more aerodynamic, with a drag coefficient of 0.26. There are no plans to launch a 3 estate, though.