Volkswagen up! review - Engines, performance and drive
The engine options are limited, but that's not too much of a bad thing
The small size of the up! means it lends itself perfectly to navigating the narrow streets and tight car parks, so it fits the brief of a city car very well. The tight turning circle makes it particularly good for nipping in and out of traffic and it's a doddle to park.
The VW's chassis delivers a superior level of grip. The up! is a genuinely entertaining little car to drive, and allows you to carry more speed into corners than you might imagine or than its rivals can manage.
This precision is matched by a level of refinement and composure that just shades the recently launched Kia Picanto. At idle the engine isn't quite as smooth as the Kia's, and it's a little noisier when revved, but drive sensibly in town and on the motorway at a cruise, and the VW is easy to get on with and more refined than the Picanto.
Harsh jolts do upset the VW's chassis, but that's no surprise. The up! deals with these intrusions adeptly and smooths out poorer surfaces more competently than the Picanto at lower speeds. At higher speeds the damping feels more plush, with well controlled reactions to bumps.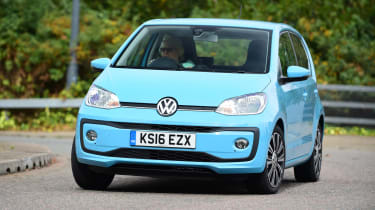 Engines
Entry-level Take up! and Move up! models are powered by the little three-cylinder 59bhp 1.0-litre petrol engine. But the up! isn't exactly heavy, so even with a small, low powered engine it still feels pretty nimble and responsive.
More reviews for up hatchback
The 74bhp engine makes 95Nm of torque, too. However, the up! was given longer ratios in the 2016 update, which means its performance at the test track wasn't that impressive in-gear. The VW took 17.4 seconds to accelerate between 50 and 70mph in top gear, plus it trailed its rivals in the lower ratios over our 30-50mph acceleration test. But the crisp shift of the five-speed manual gearbox helped it sprint from 0-60mph in 12.2 seconds.
The 1.0 TSI turbocharged engine with 89bhp is a terrific unit, offering plenty of low-down torque that makes it feel really nippy at low speed. It can't claim the title of a hot hatch, but the extra power is enough to inject an extra dose of fun to the mix, without sacrificing too much in terms of economy.
The electric e-up! model is zippy around town and almost as fun to drive as the petrol models, but is more at home at slower speeds. It starts to feel out of its depth on the motorway, and that runs down the already-limited electric range quickly. It's worth noting that ordering is currently closed for this model due to long delivery lead times.