Volkswagen up! review - MPG, CO2 and Running Costs
The Volkswagen Up is a small car with a small engine, which means low running costs
Volkswagen doesn't offer a diesel engine with the up!, so all versions come with a 1.0-litre three-cylinder petrol unit under the bonnet.
The 59bhp engine is only available on the entry-level Take up! and mid-level Move up! versions and has a combined economy of 53.3-54.3mpg with CO2 emissions of 95g/km.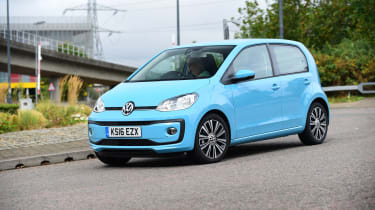 The 74bhp unit found on the High up! manages a combined cycle of 51.4-52.3mpg and puts out up to 96g/km of CO2. Volkswagen offers this model with an ASG auto, the result of which is 48.7-49.6mpg and CO2 emissions of up to 103g/km.
Economy for the 90PS model is impressive too, with figures of 54.3-55.4mpg and up to 97g/km.
Insurance groups
Being a small car with a focus on value, the Volkswagen up! is about as cheap to insure as it gets. The 59bhp models start in group 1 and the 74bhp models are group 2, which are right down the bottom of the scale. It's a similar affair for the up!'s sister modles, the SEAT Mii and the Skoda Citigo, which also have rock bottom insurance groups. This will make them great cars for learner drivers, who normally pay high premiums to insure their cars.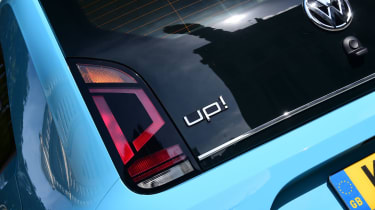 Depreciation
The Volkswagen up! has similar residual values to the Skoda Citigo and SEAT Mii. It's predicted to keep around 50 per cent of its value over three years. But the lower list price of the Skoda or SEAT means the price has less distance to fall, so it's all relative.