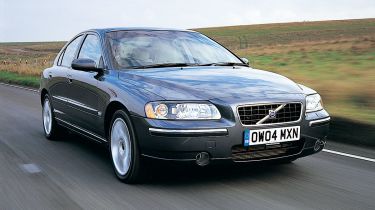 Overall Average Rating - 85.48%Position in the Top 100 cars - 47th
WINNER OF CATEGORY - Comfort
Slide into an S60 and it's not hard to see why you praise it so highly. The multi-adjustable seats are perfectly contoured to support the driver without uncomfortably squeezing the thighs or shoulders, while the steering wheel and gearlever are ideally placed. Passengers are also well catered for, with equally satisfying seating in the rear. Opt for the S60's superb quality leather trim, and long journeys are sure to fly by.
Ratings
Position in the Top 100 carsReliability: 34thBuild Quality: 21stRunning Costs: 78thPerformance: 13thBraking: 34thRide Quality: 51stHandling: 80thPracticality: 86thComfort: 1stEase of Driving: 47th
Your Quotes
"Very comfortable, but it's not designed for families when the driver (me) is six feet seven inches tall and has to take the seat back as far as it will go!"
Mr Marc Winslett - Staffordshire
"S60 T5 - great performance, ride, comfort and practicality. Expensive to run and service, interior build quality not up to scratch (broken cup holder, squeaky seat & dashboard)."
Mr Byron Stevens - Derbyshire
"Although my D5 model does not receive any complimentary accolades from your magazine, it is the best car I have had in the last 45 years and really takes some beating except for the practicality of the boot. Since I have had it remapped it would probably beat all except the 50 grand sports elite."
Mr John Whittle - Lancashire
"Excellent interior and lots of good design features. Very good sound system. Engine (2.4T) very good but thirsty. Ride a bit lumpy, Steering nicely weighted. Generally quiet but some wind noise from rain gutters if wind blowing from a certain direction. Good size and shaped boot."
Mr Terry Dungate - Dorset
"First class practical car with superb seats."
Mr Anthony Stratton - Rochdale Lancs
"A great car let down by the boot opening. I did suggest turning this model into a hatchback would make it perfect."
Mr John Saunter - Cornwall
"Looks better than it is. Very unreliable electronics and poor starting in cold weather. I would never buy or recommend another Volvo to anybody."
Mr Shane O'Leary - Hampshire
"Great drive, comfortable, good looking and great value specification."
Mr Steve Dean - Lancashire
"Good all -ounder...never expected an exciting car, but service costs and depreciation are horrendous."
Mr Peter Owen - Hampshire
"Problem was clutch fluid leak on to cruise control sensor. Sensor first replaced by dealer under warranty, but leak undetected. When second sensor failed and clutch fluid leak identified, problem solved by dealer even though warranty period expired - they acknowledge they should have made a better initial diagnosis."
Mr David Barrat - London
"Great car, shame about the fuel consumption and very high dealer servicing costs."
Mr Stephen Hartley - Edinburgh
Manufacturer Verdict (Position - 12th)
Safety, comfort and durability –– these are the attributes that keep customers coming back to Volvo. But does the car maker live up to its reputation? You tell us that its cars are tough to beat for practical long-distance cruising, voting Volvo in at the top of the comfort chart. Yet this comes at a cost, and keeping your Swedish model on the road is leaving a considerable hole in many budgets.