New Alfa Romeo baby SUV to lead brand's new model boom
Alfa Romeo's new Audi Q3 rival will be joined by a larger flagship SUV, plus a new Giulietta hatch, 8C supercar and GTV coupe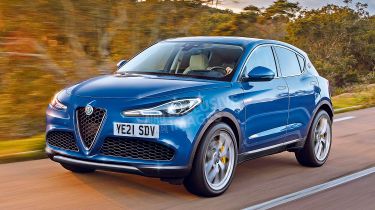 Alfa Romeo is planning to add two new SUVs to its expanding product line-up to bookend the popular Stelvio in the range, and both newcomers will be on sale in the next three years.
The two new models will give the Italian brand almost complete coverage of the SUV market and will play a pivotal role in helping the marque achieve its target of 400,000 annual sales by 2022.
Neither of the SUVs has been named yet, but the smaller one – previewed by our exclusive main image – is likely to become the best-selling model in Alfa's 108-year history. The car will be tasked with stealing sales from the Volvo XC40, BMW X1, Audi Q3 and Range Rover Evoque, competing in the fastest- growing segment of the new-car market.
It's likely the baby SUV will be based on the shrunken version of Alfa's Giorgio platform, which currently underpins the Stelvio SUV and Giulia saloon; the chassis is also expected to form the basis of a new Giulietta hatchback. As a result, the SUV will be rear-wheel drive, with customers being offered the option of four-wheel drive as well. 
Alfa will be one of the last premium car makers to market with a compact SUV when the Audi Q3 rival arrives, but the new model will launch with electrified powertrains and Level 3 autonomous driving technology, allowing the driver to hand over total control to the vehicle for certain periods of time.
The electrified powertrains are expected to comprise regular hybrid units that will be a replacement for the diesel engines the company has stopped developing. Plug-in hybrid technology is also a possibility.
The larger of the SUVs (previewed in our exclusive image below) will be Alfa's flagship model and a rival for the Audi Q7 and Volvo XC90. "There are two key segments: compact UV [utility vehicle] and full-sized UV," said Alfa Romeo boss Timothy Kuniskis. "These segments represent 81 per cent of global premium market growth. We will ensure each new product embraces our brand principles."
The large SUV is likely to be the first model at Alfa to feature a performance-focused plug-in hybrid powertrain. Engineers are promising an all-electric range of 32 miles and a 0-62mph sprint time of less than five seconds.
The expansion of the SUV portfolio and the 10 per cent profit margin the Italian brand hopes to be achieving on cars by 2022 will also allow Alfa to develop a pair of new performance vehicles. "Our future depends on staying true to sports car roots. We will bring to market an aspirational supercar," Kuniskis added.
A return of the 8C sports car has been earmarked for 2022. The mid-engined hybrid supercar will be based around a new carbon-fibre monocoque chassis and powered by a twin-turbo V6 engine.
Even though this is some years away from showrooms, Alfa has confirmed it will be four-wheel drive, thanks to an electrified front axle much like the set-up in the Honda NSX, and develop upwards of 700bhp. Alfa has already set a 0-60mph target time of around three seconds, which will put the 8C in direct competition with models such as the McLaren 720S, Ferrari 488 GTB and Lamborghini Huracan when it arrives.
Partnership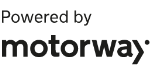 Need to sell your car?
Find your best offer from over 5,000+ dealers. It's that easy.
Also in the pipeline at Alfa is a new generation of GTV, a model originally dropped from the range back in 2005. The sports coupe will fundamentally be a two-door version of the Giulia saloon although, in a bid to mark it out as a completely new product, Alfa has confirmed it will be engineered as a performance hybrid. Previewed by our exclusive image (below), the coupe will carry over many of the design features found on the existing Giuila, but the two-door body will give Alfa a credible rival for the Audi RS 5 and BMW M4.
It will incorporate Alfa's 2.9-litre twin-turbo V6 with E-boost technology, which is designed to help eliminate turbo lag and boost overall power. Like the 8C supercar, it will also be four-wheel drive, but the Giulia will allow seating for four people.
What's coming and when
As well as introducing two new SUVs, a hatchback, a supercar and a sports coupe, Alfa Romeo will be refreshing its successful Stelvio SUV and Giulia saloon ranges over the next four years. Here's what to look out for and when the cars will be launched.
Alfa Romeo Giulietta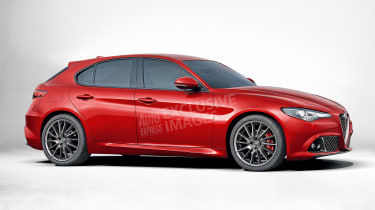 Due: 2020
Heavily revised Golf rival, previewed in our image, is expected to land at turn of decade. Investment in Giorgio platform means Giulietta goes rear-wheel drive. 
Alfa Romeo baby SUV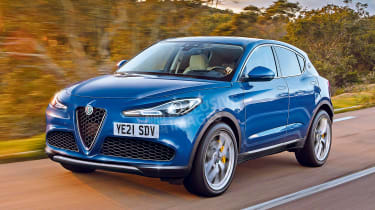 Late: 2020
Based on the new Giulietta hatch, Alfa's Audi Q3 rival, previewed in our image, will be launched with hybrid tech and Level 3 autonomous driving capability.
Alfa Romeo Giulia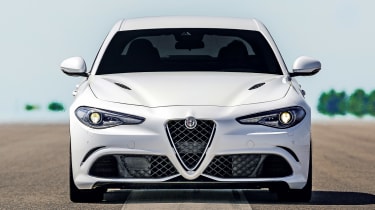 Due: 2020
The Giulia saloon will soon be one of the oldest models in Alfa's line-up, so a mid-life facelift will help keep it fresh in 2020. A long-wheelbase model will also arrive. 
Alfa Romeo large SUV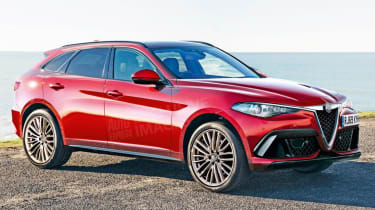 Due: 2021
Next up for Alfa is the large SUV, again previewed in our exclusive image. A 400bhp hybrid powertrain has previously been hinted at by engineering bosses.
Alfa Romeo Stelvio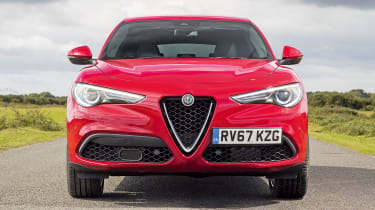 Due: 2021
Next in line is a mid-life revamp for the Stelvio SUV. Like the Giulia, a long- wheelbase version will be developed, aimed at the growing Chinese market. 
Alfa Romeo GTV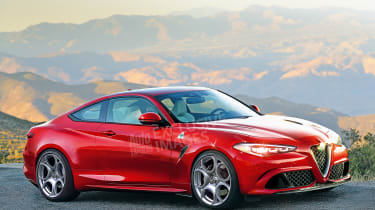 Due: 2021
The GTV will return as a four-wheel-drive hybrid performance coupe. Previewed in our exclusive image, it will be based on the Giulia and rival the BMW M4. 
Alfa Romeo 8C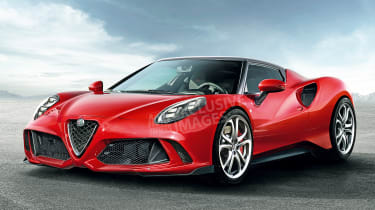 Due: 2022
Last in the product plan is an all-new hybrid 8C, also previewed in our image. It'll be based around a carbon-fibre chassis, and deliver 700bhp-plus.
Which Alfa Romeo model are you looking forward to seeing? Let us know below...