New Alfa Romeo Giulia Quadrifoglio Verde to target BMW M3
Our exclusive image shows how a new Alfa Giulia Quadrifoglio Verde ( or Cloverleaf) supersaloon could look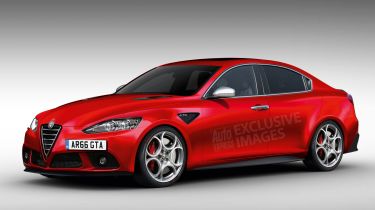 When Alfa Romeo launches its new Giulia saloon late next year, it will have its work cut out tempting buyers away from the BMW 3 Series.
But the brand has a secret weapon up its sleeve. Straight from launch it will show its intent with a storming 500bhp Giulia Quadrifoglio Verde, designed to blow the 425bhp BMW M3 out of the water, and we can show you what it looks like.
An inside source has revealed that the technical details of our Giulia scoop and exclusive images are accurate. In addition, Alfa is planning a rethink of its naming structure. To bring consistency to its performance models across the range, the hot Giulia (and every other fast Alfa in the future) won't bear the GTA name, but wear the Quadrifoglio Verde (translates as Cloverleaf) badge already seen on the MiTo and Giulietta, instead.
Our exclusive image is based on inside information and is the most accurate view yet of how the Giulia 'Cloverleaf' will look. Plus, if you replace the prominent bumpers and vents with more restrained bodywork, it shows how the standard Giulia will shape up, too.
Classic cues from its 156 GTA forebear will include the arrow-head front grille and telephone-dial alloys, making it instantly recognisable as an Alfa, while bonnet vents and a deep front bumper with integrated foglights add aggression.
Alfa Giulia Quadrifoglio Verde: 480bhp+ from 3.0-litre biturbo V6
Due to the four-door Giulia's hidden rear handles and swoopy styling, we suggested that a three-door Giulia coupe wouldn't be required in the line-up. But we've since learned that it's very much part of the plan, and will also be offered in 500bhp Quadrifoglio Verde spec, giving Alfa rivals to both the BMW M3 and M4. A Sportswagon estate is understood to be unlikely at this stage, though.
That power will come from a version of the Maserati Ghibli's Ferrari-built 3.0-litre twin-turbo V6, producing between 480bhp and 520bhp – the exact figure is yet to be decided.
It's also understood that Alfa's brand new rear-wheel-drive platform will ensure the Giulia is lighter than the 1,635kg M3, thanks to the use of high-strength steels and aluminium sections. As a result, performance will eclipse the BMW's, with a 0-62mph sprint time of under four seconds.
To help tame all that power, expect a limited-slip differential and a dual-clutch gearbox as standard. While the Giulia Cloverleaf is likely to cost close to £50,000, the standard car should start from as little as £22,000, and will feature a more wallet-friendly line-up of turbocharged four-cylinder petrol and diesel engines, ranging from a 118bhp to 200bhp. A hot 350bhp six-cylinder diesel, based on the Ghibli unit, is believed to be in development, too.
The Giulia will kick off an unprecedented five-year expansion plan for Alfa, which will include an Audi Q5-rivalling mid-size SUV in 2016.