Audi reveals new naming structure to loop in e-tron range
Audi's new numerical naming system will be used on conventional, hybrid and all-electric models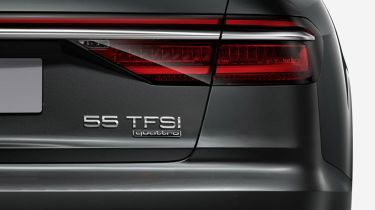 Audi has revealed a new naming structure that will come into effect on new cars launching in the coming months, with the whole of the Audi range to be turned over to the fresh nomenclature by summer 2018.
One of the main reasons for the move over to the new system is the firm's impending range of e-tron all-electric models, plus new hybrid cars – the designations will be applied to these vehicles as well as conventionally powered Audis, bringing the entire range under the same umbrella.
• New Audi e-tron all-electric SUV spied for the first time
The names of Audi's models will remain the same – A1, A3, Q5 and so forth - but variations of these existing models will use two digit numbers representing their power outputs. The two-digit number will appear alongside the existing badges representing Audi's various engines, such as TFSI, TDI, and the e-tron badge.
The two digit numbers aren't direct transplants of the car's power output in any particular measurement. Instead, Audi has chosen a handful of non-related numbers that will apply to certain cars based on their power outputs measured kW.
For instance, all cars with a power output between 81kW and 96 kW (108bhp to 128bhp) will be badged as 30 models. As an example, the entry level A3 1.0 TFSI will become the A3 30 TFSI.
The double-digit system will increase in increments of five, right up to range topping 70 cars with power figures over 400kW (537bhp). High-performance S and RS cars won't be affected by the change, and will continue using their same names.
The first model to use the new naming system will be the all-new A8 when it arrives later this year. The 3.0-litre TDI model will be known as the A8 50 TDI, with the more powerful petrol car distinguished by receiving a 55 designation.
Is Audi's new naming structure a logical step in the right direction, or does it leave you in the dark? Tell us your thoughts in the comments.