Audi luxury range revamp: fresh details on new Audi A7, A6, A8 and Q8
Distinctive styling, self-driving tech and artificial intelligence will feature new A6, A7, A8 and Q8 due by 2018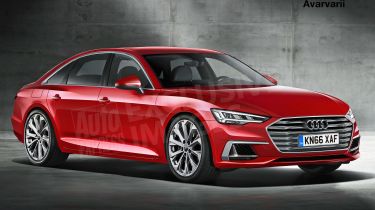 Audi will renew its entire executive and luxury car range over the next two years, with the addition of a range-topping Q8 luxury SUV plus new versions of the A6 executive saloon, the A7 4-door coupe and the A8 luxury saloon.
As well as providing hi-tech options never before seen on a passenger car, the new range will also answer criticisms of all Audi models looking too similar. Design boss Marc Lichte has styled a range of cars that are still clearly Audis, yet have greater differences in style, unlike existing models.
Audi A7: striking 4-door with RS flavour
First to break cover next year will be a new version of Audi's luxury flagship, the A8, with its own unique design that, again, is more different to the brand's current range of high end cars. Then, in the Autumn, the new Audi A7 will be shown; lower and wider than the current car with shorter front and rear overhangs.
According to Lichte the new A7's design has been inspired by racing yachts, and shows 'beauty, excitement and some aloofness'! It'll showcase a sleek, sporty new design with pumped up wheel arches on all models. "We want to get RS emotion into our standard cars," Lichte told us, and he hinted that RS models are likely to be even more extreme.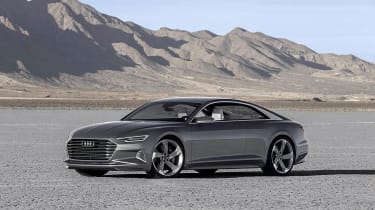 A slim, low hexagonal grille is bookended by narrow headlights with a new twist on Audi's daytime running light theme.
Every new Audi will have subtle differences to these lights, the A7 getting the latest LED matrix technology and individual, three-dimensional strakes as DRLs that will also be animated to welcome drivers.
As well as the exaggerated wheel arches – to highlight the car's quattro four-wheel drive ability – Lichte has split the traditional shoulder line with one running from front to the middle of the back door and a higher line starting at that point running to the rear – he calls them 'equator lines'. Above that second line is another beautifully crafted line, while a gentle curved imprint sits across both side doors.
The long roof of the current A7 continues, with its aerodynamics making a rear wiper superfluous, while along the back what appears to be a single rear light with a narrow illuminated bar that runs the full width of the car.
New Audi A6 in 2018
Following the A7 and also hitting showrooms in 2018 will be two versions of the A6 – a saloon and Avant. Although based on the same MLB platform as the A7, the A6 features different angles for its hexagonal grille and a slightly less detailed DRL treatment, although once again it'll be animated at arrival and departure.
The equator line along the side is also split, but at different points to the A7, while a fast C-pillar gives the car an almost coupe-like look at the back. Along the boot, a full-width chrome strip joins the rear lights rather than the light bar seen on the A7.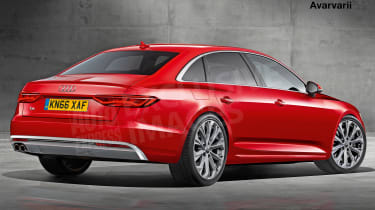 The wheel arches are similarly blown to exaggerate the car's wide, sporty proportions and once again there's the promise of a more extreme design in S and RS versions.
The A6 Avant features the same sporty look as the saloon and is what Lichte calls 'an emotive station wagon' with a sharply-raked rear screen. Yet in spite of the sleeker look, he promises more space in the boot than the current A6 Avant.
All three of Audi's large cars will get a stunning hi-tech interior that features an all-touchscreen interface with a new operating system.
• Best executive cars to buy now
Gone is the scroll-wheel MMI system. In fact gone are all traditional buttons, replaced by two screens that are seamlessly integrated into a high-quality piano black surround that stretches across the low and wide dash.
It's a similar look to that previewed in Audi's Prologue concept car first seen in Los Angeles in 2014 (that, incidentally, was designed after the new A6, A7 and A8). The few buttons remaining are either touch sensitive or beautifully integrated into the metal surrounding the centre console.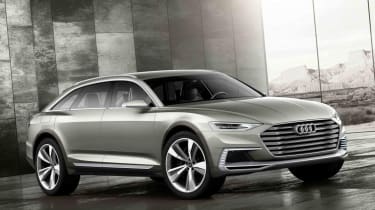 Audi is promising new haptic touchscreens that will feedback to your finger as you touch it to confirm movement – Audi's technical boss Stefan Knirsch says it makes operating touchscreens much easier on the move.
The lower of the two touchscreens operates air-con and vehicle controls, the upper takes care of infotainment and connectivity, while Audi also claims that the latest glass means fewer finger marks to spoil the shiny looking surfaces. Ahead of the driver is an updated version of Audi's Virtual Cockpit, while a head-up display will be one of myriad options.
Audi A8: first car with 'Level 3' autonomous tech
Those options are set to include some world firsts on the tech list. The A8 will be the first production car to offer Level 3 autonomous tech, meaning the driver can take his eyes off the road in traffic jams at speeds of up to 60km/h on the motorway. This Traffic Jam Pilot will watch the driver to ensure he or she is ready to take control when instructed to do so and will slow the car to a stop if it doesn't detect regular movement. Stefan Knirsch confirmed that Audi will be responsible for liability if anything went wrong with the system.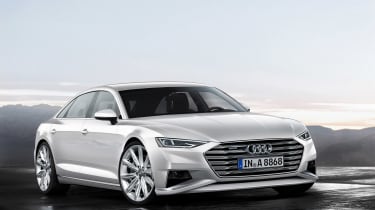 Park Pilot will enable drivers to control the car parking into bays via an iPhone app, while Audi Artificial Intelligence will be able to spot regular journeys and add them automatically to the car's navigation system. Audi's CEO Rupert Stadler also promised further AI tech to follow that will learn driver behaviour and make recommendations to make the journey easier and more relaxing.
As has become the norm with Audi, there'll be a range of chassis options to choose from ranging from steel springs to the brand's magnetic ride system and air suspension. However, Stadler admitted that the huge array of different combinations could be confusing and time consuming for some buyers, so the company is looking for solutions to make easier suggestions based on buyers' preferences.
New chassis tech, hybrid and electric turbos
All three new models will share much of this chassis tech, as well as the VW group's MLB platform and a new range of super-efficient petrol and diesel engines plus an uprated 48V electrical system, similar to that introduced on Audi's SQ7 performance SUV. It enables more efficient and faster control of electrical suspension components and provides power for the electric turbochargers designed to boost efficiency and eliminate turbo lag.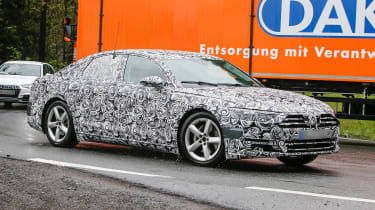 Weight savings from the use of a 'mixed metal' body shell can also be expected on all three models, while plug-in hybrid tech will also feature. However, all-electric power will be reserved for Audi's forthcoming Tesla rival, which we'll see in 2018. Design boss Marc Lichte has promised that it'll have its own design themes, although it's likely to share some componentry with the A6, A7 and A8.
Do you think Audi's plans can punt the brand to the top of the luxury car class? Join the debate in the comments section below...