Audi A3 Saloon S line 1.4 TFSI: long-term test review
We compare the classy petrol A3 four-door with its diesel counterpart
It had to happen. I'd left our Audi A3 Saloon in a multi-storey car park for a few hours, only to return to find a broken headlight, courtesy of a hit-and- run vandal who didn't leave their details.
But that was just the start of the trauma: turns out that a replacement LED light unit costs a wallet-shrinking £1,173, plus fitting – which seems crazy when you consider LED lights are a £795 upgrade when you order our S line car in the first place.
To add insult to injury, our four-door had to spend three weeks at Audi HQ waiting for the replacement part! Fortunately, Audi had another A3 Saloon it was happy for us to use during our car's enforced absence.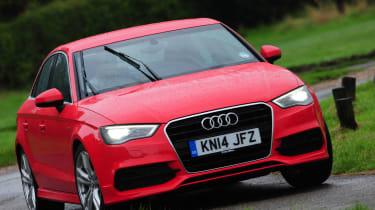 While it was an S line model like ours, it featured a 2.0-litre TDI diesel under the bonnet, so I felt a little comparison test against our 1.4 TFSI petrol car wouldn't go amiss.
The first thing to strike you is how smooth the TFSI engine is. The diesel isn't exactly gruff, but there's a familiar rattle during a cold start and under hard acceleration, while the S tronic gearbox seems less at home joined to the TDI, with a hesitancy to its shifts.
The lack of available revs in the TDI compared to the TFSI also means there's less fun to be had skipping through the gears manually. But the TDI did reinforce my concerns about the TFSI's fuel economy. Despite its cylinder deactivation technology, I've struggled to climb above 35mpg in general driving. By comparison, in identical conditions, the TDI easily achieved 10mpg more, while 50mpg is possible with care.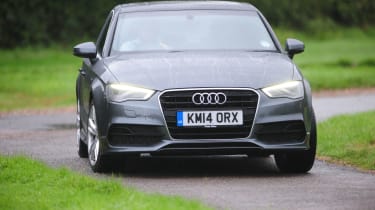 That makes the diesel cheaper, right? Not necessarily, according to my sums. Over 50,000 miles, TDI owners would spend £1,923 less on fuel, which would compensate for the TDI's £1,450 price premium. Diesel owners will pay £30 a year in road tax – £10 more than petrol drivers based on current rates.
While that's not going to break the bank, it's a different story for company car drivers.The 1.4 TFSI attracts a 14 per cent Benefit in Kind charge, but the diesel is pushed to 19 per cent. That means lower-rate taxpayers choosing the petrol option will shell out £319 a year less, while those in the higher band will pay £639 less. Over three years, petrol buyers could save up to £1,917.
Irrespective of each version's talents, it seems the TDI is the better choice for the private buyer, and the petrol is cheaper for company drivers. Me? I'll stick with the excellent and refined TFSI, and suffer the fuel bills.
Audi A3 Saloon S line 1.4 TFSi: report 1
We can't wait to see how the Audi A3 saloon, or junior Audi A4, measures up.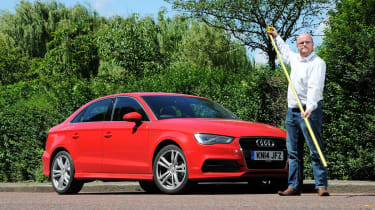 Mileage: 863 Real world fuel ecnomy: 37.9mpg
Audi A3 or A4? The choice for Audi buyers used to be straightforward: if you wanted a handsome three-box saloon, go for the A4.
For something smaller, the A3 was the car of choice. Now that job has become harder thanks to the introduction of the A3 Saloon. It's a little narrower and a lot shorter than the A4, which makes it easier to use in crowded towns, but not so small that motorway trips are a chore.
Fair-weather Audi fans could probably identify it in isolation, but this particular model requires a second glance at the badge on the back. That's no bad thing: the A4 is, to my eyes, one of the best-looking cars in its class, and that's the case with my A3 Saloon, too.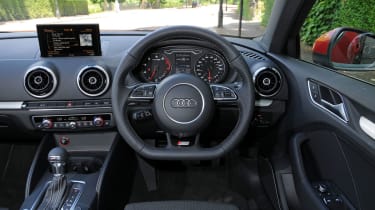 The baby saloon will be pressed into service as family transport, so I'm keen to see if I've sacrificed practicality in the pursuit of style. At 425 litres, the Saloon's boot is 45 litres larger than that in the A3 Sportback, but a narrower opening could cause problems.
The car offers serious driveway appeal, especially in S line trim, with its beefier bumpers, side skirts and18-inch alloys. The cabin features the S line badging, flat-bottomed steering wheel and part-leather seats that are now de rigeur for a sporting Audi.
Even so, it's not hard to boost the car's £26,445 price significantly, as our £5,695 options bill proves. Highlights here are LED headlights (£795) and an excellent Bang & Olufsen audio upgrade (£750).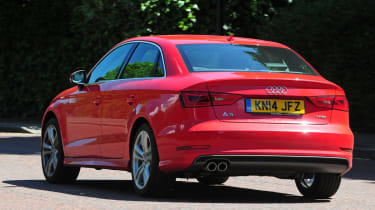 The £1,795 technology package delivers a sat-nav that glides out of a slot in the dash and MMI Touch, which lets you trace letters with your finger to operate various nav and telephone functions. The former adds a sense of occasion, but I wonder how often I'll use the latter.
The 148bhp, 1.4-litre TFSI engine uses a cylinder-on-demand system to shut off half of the four cylinders on light throttle loads and restarts them seamlessly when needed.
And a coasting feature decouples the transmission when the throttle is closed, allowing the engine to idle when not required. Whether those features translate to a saving at the pumps remains to be seen. But life with the A3 has started positively.