Long-term test review: Audi SQ7
Final report: Home and away, it's been a blast with the 429bhp Audi SQ7 SUV
The SQ7 is a great showcase for Audi's technical expertise, from the 48v electric compressor that cuts turbo lag to a high-spec cabin that cossets its occupants. It's a bit clinical in execution and it's a car to admire rather than truly love, but one thing is for sure – I'll miss it now it's gone.
Mileage: 7,241Economy: 33.6mpg
After nearly seven months, we've waved farewell to our Audi SQ7 super-SUV. And as we consider its report card, it's fair to say there was a marked difference in its performance home and away – just like my football team…
Firstly, away from home, which in my case is congested north London. Outside the capital, I found the 429bhp twin-turbo giant absolutely brilliant.
On the motorway, its unflinching appetite for blistering acceleration ensured a couple of 600-mile trips to the north of Scotland were completed in exemplary fashion. I never tired of its ability to blast past lighter, more agile cars, while the exquisitely built cabin and spacious rear seats meant my family travelled in supreme comfort.
Over the years it's a journey I've done on countless occasions, and I can honestly say that no car has made it easier than the SQ7.
Given its size, it was pretty satisfying to drive in the countryside around my parents' home in Montrose, too. Yes, you were always aware of its 2,330kg bulk, but when I switched the drive mode from my default setting of Comfort – where the ride was genuinely, er, comfortable – to Dynamic, the SQ7 really did handle adeptly. The optional Dynamic Pack, which adds all-wheel steering, a sports differential and active anti-roll bars, undeniably makes this Audi one of the better SUVs to drive spiritedly on a B-road. At £5,700 it's not cheap, but if you've got the money to buy an SQ7 in the first place it's unlikely to put you off.
Back in London, it was more of a mixed bag for the Audi. In March I moved house and here the SQ7 was in its element. Its full seven seats were used on a couple of occasions to transport family assisting with the move, and I was pleased to find that the rearmost ones were easily accessible and able to accommodate adults for short journeys.
Then when ultimate capacity was needed for trips to the recycling centre, it was simplicity itself to fold the five rear seats and free up a 1,890-litre capacity.
Those same trips to the dump, however, did highlight one of the drawbacks of the SQ7 on home territory in London – its sheer size. My local recycling facility has a height restriction on vehicles to stop commercial waste being dumped, and at 1.75 metres it was perilously close to the Audi's 1,741mm. I couldn't risk damaging the panoramic roof, so each visit necessitated a wait for a special gate for outsized vehicles to be opened, which was rather tiresome.
Traffic calming width restrictions were also a game of roulette. At 1,968mm, the SQ7 is very wide and I encountered two – both on private land – where the Audi wouldn't squeeze through without folding the wing mirrors in, delaying vehicles behind me.
I didn't really warm to the sat-nav either, whether in London or elsewhere. While the mapping was clear, and a choice of routes was always offered, on a number of occasions it kept changing its mind about potential traffic problems, which ultimately led to tortuous routes being followed.
And while the £1,500 Parking Assistance Pack ensured manoeuvring in tight spots was straightforward thanks to its surround cameras offering clear guidance on the full colour 8.3-inch display, the need to drive gingerly on packed residential roads was always apparent. On the whole, though, I'm sad to see the SQ7 go. As a super-fast, super-practical SUV it has few peers.
How Shine! got our Audi SQ7 back into shape
Running such a vast car in London was always going to result in a few bruises, so we called in the experts from Shine! (shinerepair.com) for some cosmetic surgery to get the SQ7 back to its best before it returned to Audi.
A kerbed alloy and scraped rear bumper were top of my list for repair – exactly the kind of jobs that Shine!, which operates across the whole of the UK, takes in its stride.
A wet and windy day held no fears for training supervisor Dan Sheldon and senior tech Craig Stone, as they set up a covering for the car and got to work.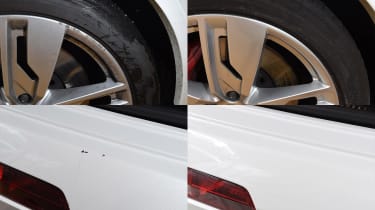 The first essential job was to find a match for the SQ7's Tofana white paint. With every colour available for every manufacturer it wasn't a problem, and once the correct code had been selected the formulation was mixed in minutes. Craig then got to work, masking off the bumper, sanding, removing contaminants from the scraped area, putting on some primer for the paint to adhere to before applying the finishing touch. The process for the wheel was remarkably similar; take the damaged layer off and then apply the finish.
In just over a couple of hours the SQ7 had been restored to pristine condition at a cost of £270 – and with repairs being done on my driveway, I was able to get some work done inside. Time, and money, well spent.
Audi SQ7: second report
Lightning fast Audi SQ7 SUV is the Usain Bolt of the automotive world
Mileage: 5,422Economy: 22.5mpg
Speed thrills; there's no denying that. But arguably even more exhilarating is unexpected speed. In my opinion, it's one of the reasons that record-breaking sprinter Usain Bolt has proven such a phenomenon.
Yes, he's supremely fast. But the gangly Jamaican with the unusual technique is an even more compelling athlete because he doesn't fit the traditional stereotype of a short, squat sprinter. And that's why I think you could make a reasonable argument that our Audi SQ7 is the Bolt of the car world.
At first glance it looks like the sort of standard SUV commonplace on the school run throughout Britain. It's big and imposing, but there's little sense of its potential. Yet floor the accelerator and all bets are off.
With a 429bhp twin turbodiesel V8 engine under the bonnet, acceleration from a standstill is devastating, as the claimed 0-62mph time of 4.9 seconds demonstrates. To put that into perspective, it compares favourably with claimed 0-62mph times for the likes of the Porsche 718 Cayman (5.1 seconds), Subaru WRX STi (5.2) and supercharged Jaguar F- Type coupe (5.3). Not bad for a 2,330kg SUV, is it?
However, while test track exploits are all well and good, in the real world it's the devastating acceleration on the motorway that makes the SQ7 so special. The merest of prods on the throttle induces a fearsome thrust forward no matter where you are in the rev range, with little discernible lag thanks to the SQ7's electric compressor, improving response low down.
Ally that with seven-seat capability and a potential load capacity of 1,890 litres, which I used on numerous trips to the tip during a recent house move, and you have a vehicle that offers amazing all-round appeal.
But life with the SQ7 hasn't been entirely straightforward so far. In Issue 1,461, we reported on how a dashboard alert had highlighted the car was carrying excess oil. When trying to get this looked at we were quoted a wait of seven weeks for a courtesy car by south London dealer Marshall Audi.
If I'd spent £96,210 on an SQ7 with a potential problem and faced such a delay, I'd be rather miffed. The need to get the issue addressed intensified when I received an E-mail from reader Bill Doherty who had experienced a not dissimilar issue with his SQ5. He was told an identical alert had been caused by the car going into a regenerative cycle to try to clear its diesel particulate filter, and dumping diesel into the sump.
Alarmed at this prospect on the SQ7, I booked the car into West London Audi as soon as I could, and it delivered a swifter, more efficient service than its counterpart south of the river. A check-up confirmed that there was indeed half a litre excess oil , with no logical explanation for this, as the car had run perfectly for two months prior to the alert with, presumably, the right level.
A check of the oil seemed to suggest it was of the correct viscosity, and it was drained away, the correct level poured in and some miles put on the clock to check it didn't rise again. Mercifully that didn't prove to be the case, but staff were mystified as to what could have caused this and I've been told to monitor the situation to try to avoid a repeat. So, with a seemingly clean bill of health , the SQ7 is back on the road and doing what it does best, showing lighter, more agile cars a clean pair of heels.
Audi SQ7: first report
Mighty 429bhp Audi SQ7 super-SUV is ready to make a big impression on our fleet
Mileage: 3,191Economy: 28.1mpg
Audi chairman Rupert Stadler is on record as saying that within three years, he expects nearly half of his brand's total volume to be made up of SUV sales. So what better way to test Audi's SUV prowess than by running the one that is the daddy of them all – the mighty SQ7 – on our fleet?
It's very big, and with a V8 twin-turbodiesel, very fast, too – so to get an idea of what the SQ7 has in store for us, we headed down to Audi Coulsdon in Surrey, where sales manager Jason Stanger and sales executive Erin Button talked us through the car.
Audi's dealers didn't fare especially well in our Driver Power survey last year, finishing 26th out of 31, but we found staff at the upmarket Coulsdon operation both welcoming and keen to share their expertise.
And there was a lot for them to talk about, with our car featuring more than £24,000 worth of optional equipment.
Erin gave me a guided tour of the car, starting off inside, where the build quality, as you'd expect of an Audi, is exemplary. The brushed metal gives it a really high-class feel, while sporty leather seats and SQ7 badging on the steering wheel remind you this model is a breed apart from regular versions.
If you've never driven an Audi before, at first glance the infotainment system might cause a furrowed brow, but in reality it's easy to use, with the MMI dial controlling functions such as the navigation and audio. Once you've mastered it, the rich sounds emanating from the £1,100 Bose 3D system are worthy of such an expensive car.
All the relevant information is presented on a large pop-up screen which rises out of the centre of the dashboard, and as Audi's Virtual Cockpit is standard, you can also choose to configure the digital display in front of the steering wheel accordingly.
We've specified the £1,350 Head-up Display, so we also have the luxury of key info such as speed limits and directions being displayed on the windscreen in front of the driver. Move further back in the cabin, and the rear occupants are equally well catered for. My two young daughters can't wait to use the 10.1-inch screens that come as part of the £1,180 Audi Entertainment Mobile package, while the £1,700 panoramic roof ensures the cabin feels light and airy at all times.
The two rearmost seats ensure capacity for seven, plus folding them is as simple as pressing a button in the boot. And I'm going to need the maximum 1,890-litre capacity shortly, with a house move imminent.
But what really matters with this car is its engine, a 429bhp powerhouse with a pioneering electric powered compressor (EPC) that promises to virtually eliminate turbo lag and provide instantaneous acceleration throughout the rev range.
Early impressions suggest the EPC is as good as its claims, and with the £5,700 Driving Dynamics Sports Pack fitted, our SQ7 promises to drive with the sort of pace and agility you just don't expect of a 2,405kg car. As SUVs take over the world, we're looking forward to testing this technical tour de force thoroughly.
*Insurance quote from AA (0800 107 0680) for a 42-year-old in Banbury, Oxon, with three points.