Audi RS4
Warning! This estate is not Labrador friendly. Under no circumstances should you load your beloved best friend into the back of the Audi Avant RS4 quattro - unless, of course, he enjoys sitting with his face mashed up against the rear screen...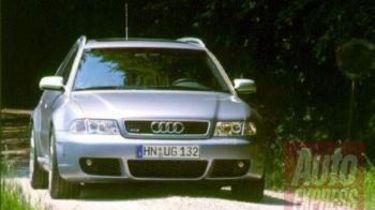 This most definitely is not a load-lugger if you have any sense of serious practicality in your mind - because the new RS4 is all about cornering rather than carrying. It is a 380bhp powerhouse, with the potential to chase - and, in favourable conditions, outrun - some seriously formidable sports cars. Yet while it is more in tune with visits to Brands Hatch than trips to the garden centre, this vastly accomplished supercar's appeal lies in its estate pro-portions, which guarantee everyday usage for this low-key road-burner.
We have seen this all before, of course, back in 1992 when Audi built the storming RS2. It was a tweaked S2 Avant, itself a hotted-up version of the 80. More recently, Audiphiles have been treated to the S4 in saloon and Avant form. And it's the estate - a bodystyle which makes up 70 per cent of total A4 sales - which is whisked away from the Ingolstadt factory and delivered to Audi's high-performance master, quattro GmbH.
Transformed
Boss Werner Frowein set up the firm to take on BMW's M division and Mercedes' AMG, both of which he worked for before running the RS4 project. By the time his team has transformed the S4 into the 'R', only the roof and bonnet remain the same.
The first time you see the Audi on the road, it looks lean and mean. It is hunched over 18in alloys, with flared arches and jutting side sills adding to the muscular impact. But that estate bodyshell discreetly hints at the car's performance potential rather than screaming it from the rooftops. It's much the same story when you fire up the V6. There's precious little idle noise or vibration to give away the 2.7-litre twin-turbo unit's potency.
This bears tribute to the engineering skills of UK-based and Audi-owned Cosworth Technology. The firm has developed a special head, enlarged the intake and exhaust ports, and added bigger turbos and intercoolers to boost power from 265bhp to 380bhp at 6,100rpm, and torque from 400Nm to 440Nm at a mere 2,500rpm. Yet it seems as docile and well mannered as ever - until you hit the gas... Be in no doubt; the RS4 is incredibly fast. Launched from a standstill it jumps to 60mph in 4.9 seconds, as the quattro four-wheel- drive set-up grips like a limpet and ensures that not a single horse-power goes to waste. Keep going and 124mph (200kph) flashes past in only 17 seconds, while on derestricted German autobahns our car showed an indicated 168mph, despite being governed to 155mph...
Along the way, you'll encounter a relatively heavy clutch and some driveline shunt from the six-speed manual gearbox - an annoying trait shared with most other Audis. But if you were expecting a wild ride to accompany the flying performance, you'd be in for a surprise. The RS4 is hushed and refined, and at low speeds is compliant and comfortable rather than sharp and edgy.
There is no denying the sheer thrust that's at the driver's disposal, though. A flex of the right foot summons effortless overtaking ability, especially above 2,800rpm where the V6 is at its absolute best and the turbos spin into life quickly. From that point there's one seamless wave of acceleration until the electronic cut-out at 7,000rpm. Here you can catch your breath before it starts over again. Add in that 4wd, which gives grip whatever the weather, and the RS4's pace is breathtaking - unlike the engine note. What a pity the lame vocals fail to match the stirring performance, but then that's the price Audi pays for engineering its cars for comfort rather than dynamism.
Hit the back roads and this estate will enthral like no other. But that is not to say it's a serious threat to traditional sports cars such as Porsche's 911. It sits 20mm lower than the S4, has revised spring and damper rates and bigger brakes with electronic brake-force distribution and ABS. Trouble is, those fat tyres tend to tramline and follow ruts and grooves. And, while the steering does give enough feedback, it can be slow. In addition, the heavy 1,620kg body doesn't change direction as effortlessly as a sports car, partly due to suspension's 'comfort' settings.
Lining it up for criticism against the 911 would be missing the point, though. For the exact reason it's an estate, albeit one that's sure to find a cult following, buyers will place an order. As long as they don't load the Labrador in the back, they shouldn't be upset with their choice...