Audi TT 2.0 TFSI quattro 2015 review
Entry-level Audi TT 2.0 TFSI quattro undergoes its toughest test yet – the British B-road
The new Audi TT reeks of quality – even more so than before. Its interior is Audi's best yet – no mean feat – yet underneath, this entry-level petrol engine, quattro drivetrain and automatic gearbox are a sensationally efficient and powerful combination. Other sports cars are more interactive, but as an all-round, everyday feel-good coupe, the new TT is simply sublime. If only it had a more obvious new exterior look to herald its improvements more proudly.
Welcome to our first taste of the new Audi TT in the UK, and how's this for a sign of confidence from Audi that this TT can finally graduate to true sports car status? The venue for our test drive isn't the sort of trendy urban boulevard many TTs will make their stomping ground, but rather the highlands of Scotland, on some of the best, most challenging roads in the British Isles. Audi even booked a torrential downpour to give its quattro-drive coupe the hardest possible workout.
The version we're driving is the 2.0 TFSI petrol mated to a S-tronic gearbox and quattro all-wheel drive. Think of it as a TTS-lite, or, if you like, a VW Golf GTI Performance Pack will all-wheel drive. The TT of course uses the Golf's basic MQB platform, and this is the same four-cylinder turbo engine we know and love from the hot Golf. With two clutches, six gears and four driven wheels, there's no more efficient way of putting 227bhp onto the road.
That said, the TT's first impression is the wondrous interior. Our test car was immaculately finished, with real attention to detail in the jet-like air vents and flat-bottomed steering wheel design. The 12.3-inch Virtual Cockpit screen is genius – perhaps not as immediately intuitive – learning your way around the menus takes time – but once you're inducted, a normal dashboard seems archaic.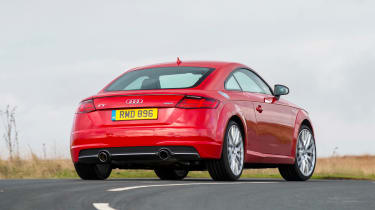 Right-hand-drive does nothing to dent the appeal either – there's none of the offset driving position compromise that blights the ageing A4 and A5, and the glovebox is a useful size – though that can't be said for the back seats. With only that predictable niggle to report so far, it's time to put Audi's money where its mouth is. Does £35,335 (in this case) buy you an Audi sports car or a posing pouch?
The first thing you realise is that this is a very fast 'entry-level' car. Audi insiders hint that there'll be a cheaper, less powerful petrol TT in not too long to provide a more enticing 'beginners' TT'. But right now this 2.0 TFSI gives all the performance you could reasonably want, and then some. Sprinting from 0-62mph in 5.3 seconds and 155mph speaks for itself, but the in-gear overtaking shove is equally impressive, and even in torrential rain, we could extract all of the TT's grunt in nonchalant fashion.
And if you're one of the fleet customers yearning instead for the 67.3mpg, 110g/km TT TDI Ultra, fear not, as it's just as satisfying. On regular suspension and 18-inch wheels, its compliance over rubbish British roads is excellent, and would've been unimaginable in the boneshaker Audis we were getting a decade ago.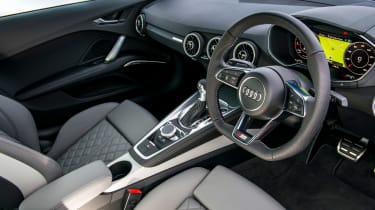 In Efficiency and Comfort modes, the petrol's voice is too dulled and throttle response too soggy, however – select Sport and you get a much sharper throttle and some synthetic-sounding but enjoyable nonetheless engine blare to accompany your momentum.
The S-tronic gearbox isn't quite Audi's best effort, as there are only six ratios rather than seven, but the engine is so flexible, with maximum torque from 1600rpm to 4300rpm, that you rarely feel shortchanged. Click down the box for snappy changes and a delightful exhaust parp, or stay in auto mode (or in the final gear) for more refined progress. Yet more evidence this is a car for all weathers, all moods, all occasions – if not all people.
Our S-line test car suffered from a fair degree of tyre roar from the 19-inch wheels, and the ride is much firmer than the standard Sport trim (try before you buy), but you're repaid with a willingness to change direction and charge around bends that most Audis would simply shrug into understeer at. This version is, after all, around 100kg lighter than the old car due to the new platform, an achievement which, given how much plusher the cabin feels, should not be sniffed at. The steering majors on accuracy over feel, but there's no kickback, massive grip, and just a sense that you're in a little capsule of immense build quality that is glued to the road.