Best company cars £20,000 to £25,000
Best company cars for those with £20,000-£25,000 to spend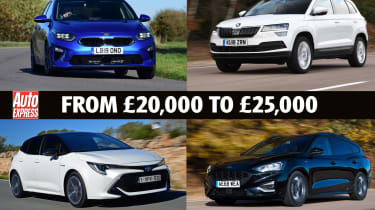 Mazda MX-5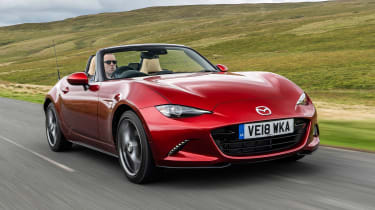 Model: Mazda MX-5 1.5 SE-L Nav+Price: £20,795Engine/power: 1.5-litre 4cyl/130bhpCO2/BiK band: 143g/km/32 per cent0-62mph/top speed: 8.3 secs/ 127mphMonthly BiK Bill high rate: £219Monthly BiK Bill low rate: £110
Just because you're looking for a company car, it doesn't mean you can't opt for something sporty or fun – and Mazda's iconic MX-5 roadster proves as much. It's a joy to drive, thanks to its lightweight construction and a sharp, revvy 130bhp 1.5-litre naturally aspirated engine mated to a sweet six-speed manual gearbox.
The Mazda sprints from 0-62mph in just 8.3 seconds, while the low 986kg kerbweight means CO2 emissions of just 143g/km. Yet it still handles beautifully. The steering has just the right weight and there's lots of grip, but the chassis rolls, too, so it communicates where the limit is. The softer side to the set-up also means this is a relatively comfortable car, given how agile it is on the road.
Of course, it's only a two-seater, and the folding soft-top eats into boot space (there's 130 litres available). But drop that roof and you've got access to open-top thrills.
Toyota Corolla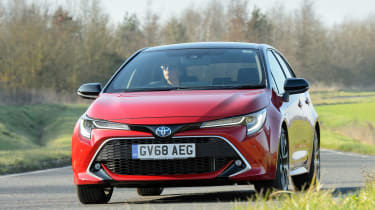 Model: Toyota Corolla 1.8 Hybrid Icon TechPrice: £24,800Engine/power: 1.8-litre 4cyl hybrid/120bhpCO2/BiK band: 76g/km/22 per cent0-62mph/top speed: 10.9 secs/ 111mphMonthly BiK Bill high rate: £181Monthly BiK Bill low rate: £90
A move to Toyota's New Global Architecture platform means the new Corolla hatchback has gone straight into the market as a great company car choice. Otherwise, it's all familiar Toyota fare, with a 1.8-litre petrol-electric powertrain – charged using engine power, rather than by plugging in – that's yet another evolution of the brand's technology, so it's also an improvement.
The car's ultimate performance is nothing to write home about, but if you can adapt your driving style to the combined strengths of the engine, electric motor and CVT automatic gearbox, you can achieve fine fuel economy, helping to minimise your running costs.
The Corolla replaces the Auris, but still falls down where many Toyotas of late have – the infotainment isn't great, for example – but its quality and driving dynamics are good enough for it to be talked about in the same breath as a VW Golf. And with lower CO2 emissions and an affordable list price, it's a solid choice. We suggest Icon Tech spec; its nav is handy because the car does without Apple CarPlay or Android Auto.
Ford Focus Estate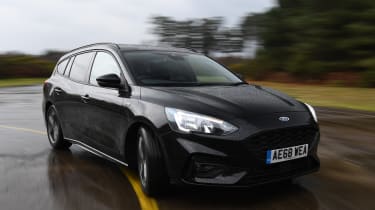 Model: Ford Focus Estate 1.5 EcoBlue 120 ZetecPrice: £22,200Engine/power: 1.5-litre 4cyl/118bhpCO2/BiK band: 97g/km/27 per cent0-62mph/top speed: 10.5 secs/119mphMonthly BiK Bill high rate: £198Monthly BiK Bill low rate: £99
The all-new Focus Estate might not offer as much boot space as a Skoda Octavia, but it has plenty of plus points. The first is its 118bhp 1.5-litre turbodiesel's incredibly low CO2 emissions which, allied to the second trick – its keen price – mean it's very affordable for business users.
While performance is acceptable, and nothing more, company car drivers should focus on the bottom line: a £99-per-month bill for lower-rate income taxpayers.
Even in Zetec trim, you get decent equipment – Apple CarPlay and Android Auto are included – while the Focus is one of the best drivers' cars in its class. The light but accurate steering and supple yet agile chassis mean there is genuine fun to be had in what seems like a humdrum car, and if you back off, you'll easily see more than 50mpg.
Volkswagen Golf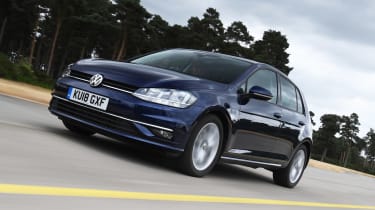 Model: Volkswagen Golf TSI SE Navigation 5drPrice: £21,600Engine/power: 1.0-litre 3cyl/113bhpCO2/BiK band: 106g/km/25 per cent0-62mph/top speed: 9.9 secs/122mphMonthly BiK Bill high rate: £174Monthly BiK Bill low rate: £87
Volkswagen renewed its focus in the wake of the Dieselgate scandal a few years ago and breathed new life into its class-leading small family hatchback by adding this fine 1.0-litre turbocharged petrol engine to the range.
The Golf is a great family car; it's spacious, rides well and has enough boot space, as well as boasting superb cabin quality. With SE Navigation spec you get a good level of equipment at an affordable price, including an eight-inch touchscreen infotainment system. This is one of the best in the business, responding quickly and coming packed with features. Sat-nav, Apple CarPlay and Android Auto are highlights, while pedestrian detection with autonomous braking means safety is strong, too.
The 113bhp TSI engine emits 106g/km of CO2, which results in a monthly BiK tax bill of £87 for lower-rate taxpayers. That's about on par with rivals in this sector, but the Golf's class and all-round ability mean it should be top of your company car shortlist at this price point.
Skoda Karoq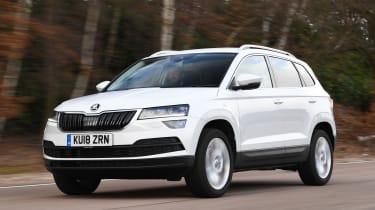 Model: Skoda Karoq 1.5 TSI SEPrice: £23,290Engine/power: 1.5-litre 4cyl/148bhpCO2/BiK band: 124g/km/28 per cent0-62mph/top speed: 8.9 secs/126mphMonthly BiK Bill high rate: £215Monthly BiK Bill low rate: £108
SUVs continue to steal sales from more traditional saloons and hatchbacks on the private market, so it stands to reason that exactly the same pattern has emerged for user-choosers; that's why cars like the Karoq are so popular.
It's our favourite mid-size SUV and the 1.5 TSI in SE trim is the pick of the range. This comes in under £25,000 but still gets Apple CarPlay and Android Auto, climate and cruise control, parking sensors, collision warning with pedestrian detection, as well as autonomous braking. As the Skoda has a bigger, bulkier body than a hatchback, it doesn't drive quite as sweetly. But it's not sluggish, with 148bhp from the 1.5-litre turbo petrol.
It's one of the better-riding SUVs, too, offering plenty of comfort on long journeys. The handling is respectable for a higher-riding car as well, with good steering and not too much roll compared with its rivals.
The Karoq beats a standard hatchback for practicality and flexibility, but it's the quality and sheer value for money that make it such a good business machine, with all-important affordable BiK tax bills.
Kia Ceed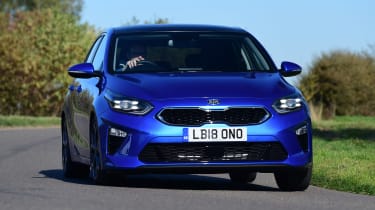 Model: Kia Ceed 1.0 T-GDi '3'Price: £20,705Engine/power: 1.0-litre 3cyl/118bhpCO2/BiK band: 127g/km/29 per cent0-62mph/top speed: 10.7 secs/118mphMonthly BiK Bill high rate: £178Monthly BiK Bill low rate: £89
Kia's all-new Ceed hatchback arrived towards the end of 2018 and almost knocked the Golf off its perch. That's because it had comparable infotainment, lots of standard equipment, a decent mix of ride quality and handling agility, and plenty of space, all wrapped up in a package that will be an appealing proposition for business buyers.
Company car buyers might not have to worry too much about warranty periods, but Kia's standard seven-year/ 100,000-mile cover shows just how confident the company is in the quality of its new hatchback.
The 1.0-litre turbo petrol engine is punchy and the best in the range at keeping costs down. There's also plenty of space inside (even if the quality doesn't quite match a Golf's), the 395-litre boot is one of the biggest in this segment, and in '3' trim you get a great level of kit, highlighting what good value the Ceed is.
An eight-inch screen with the latest smartphone connectivity and sat-nav is standard, as are parking sensors and a reversing camera. There's lane-keep assist, high-beam assist and autonomous braking, too.
Best company cars by price bracket
• Best company cars £20,000 to £25,000