BMW 1 Series M Coupe - Best BMW M cars
M car fans had been crying out for a return to the ethos of the E30 M3, and the 1 Series M Coupe was it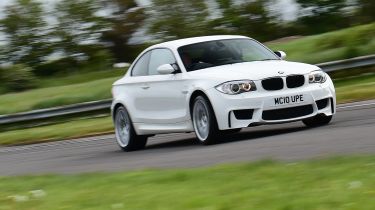 There was something of a 'back to basics' feel about the 1 Series M Coupe from 2011, with its compact dimensions, straight-six engine and manual-only gearbox. It was even relatively affordable, and with a widened-track, aggressive body kit and plenty of race-track inspired styling cues, the car looked every inch the M car enthusiasts were pining for.
BMW originally planned to build fewer than 3,000 examples of the 1 Series M Coupe, but rave reviews in the media and enthusiastic would-be owners resulted in that figure more than doubling before production ceased in 2012.
What's the BMW 1M like to drive?
Steve Sutcliffe tries it out on track
The BMW 1M, which was a freak of a car when it was launched in 2011, and feels like even more of a fruitcake today. As a result, you either love the 1M or you do not.
Very few people drive this model and think, yeah, it's OK. Even the way it looks divides opinion, although most car people tend to like its 'mini He-Man' styling. I've got to be honest, though; the 1M feels like a right old hotch-potch of a car in 2022, and I'm not sure the past 11 years have been all that kind to it.
It's very quick, concerningly so if you over-commit to a corner – which is all too easy to do with 335bhp and a huge 450Nm beneath your right foot. This car weighs less than 1,500kg, remember. But if the steering, chassis and brakes felt endearingly edgy in 2011, in 2022 they seem borderline at times. It feels like you could have an almighty accident if you pushed things just a bit too far, and you'd have no idea how or why it happened. For some, that'll be the holy grail, for others it will be the reason to walk away. But then the M1 was always a Marmite car, and the brew seems stronger today than ever.
BMW 1M Coupe prices and specs
Price new: £40,000
Value now: £45,000
Production: 6,309 (2011-2012)
Engine: 3.0-litre, six-cylinder
Power/torque: 335bhp/450Nm
0-62mph: 4.3 seconds
Top speed: 155mph
Gearbox: Six-speed manual
Weight: 1,495kg